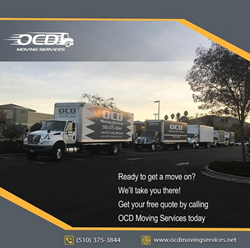 SAN FRANCISCO (PRWEB) June 04, 2019
As Bay Area businesses prepare to move offices this year, OCD Moving Services, the top choice for commercial movers in the Bay Area, is offering tips on what to do with those unwanted electronics. Every time an office move takes place, there's a plethora of electronics to get rid of – computers, desktops, laptops, servers, hard drives, printers, copiers, and so much more. What is the best way to dispose of these electronics? Dumping them on the street corner is not the answer. There are eco-friendly ways to dispose of these items, and steps to take before you do.
Globally speaking, electronic waste is the fastest-growing waste stream. Part of that is due to the shortened lifespan of electronic devices such as laptops and cellphones. According to the Environmental Protection Agency, only 15 to 20 percent of e-waste gets recycled. The electronics that are not recycled go directly into landfills, and some are even illegally exported to developing countries. Why is this dangerous? Most electronic components possess toxic elements, most of which are incredibly toxic to the environment, and humans. For that reason, it's important to recycle electronics properly.
OCD Moving Services' Eco-Friendly Junk Removal Service
Expert commercial movers OCD Moving Services recently announced the expansion of their junk removal services. As part of their commitment to reducing their environmental impact through their commercial moves, OCD Moving Services encourages businesses to use their electronic recycling and e-waste disposal services. OCD Moving Services can package, haul and recycle unwanted electronics so that they're correctly disposed of.
Before you recycle your electronics, it's imperative that you erase your data from the device. For businesses, this is even more important as many of your devices likely have proprietary data that you wouldn't want to get into the wrong hands. Wiping your device involves more than just deleting your files. By erasing the device, your files will not be retrievable by anyone else. Before you have your data wiped, make sure you backup all of your files and adequately save them for future reference.
The Benefits of Recycling Electronics
All electronic devices are made from metals such as gold, copper, and silver. When electronic devices are properly disposed of, those materials are sold for profit and turned into something new. For example, a cell phone battery might be used to make new smartphones and batteries. Materials from recycled laptops can be used for metal jewelry, cars, and even art.
OCD Moving Services is dedicated to lessening their impact on the environment through their eco-friendly commercial moving practices. It's OCD Moving Services goal to make the world a more comfortable environment, one eco-friendly commercial move at a time.
Work With OCD Moving Services
When working with a professional moving company, like OCD Moving Services, you can trust you're working with professionals who will make your move as environmentally friendly as possible. Professionals Bay Area movers know how to pack up a home and load up a track in an efficient way that will result in fewer trips necessary, which results in fewer gas emissions into the environment.
Join OCD Moving Services in helping to protect our planet and give them a call today to plan your eco-friendly move. OCD Moving Services is currently offering free quotes for prospective customers who are planning their local or long-distance eco-friendly move. OCD Moving Services takes pride in its comprehensive and efficient junk removal services. Call their Bay Area location today at (510) 375-3844 or visit http://www.ocdmovingservices.net.