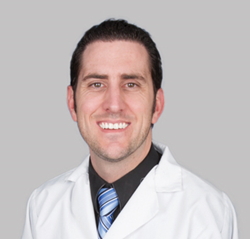 "Whenever patients around Orange County are in Laguna Niguel, stop in and say hi even if you don't have skin problems. It'd be a privilege to meet you," said Mr. Davies
Laguna Niguel, CA (PRWEB) August 07, 2017
OC Dermatology is pleased to announce the addition of Mr. Shaun Davies, PA-C, to its staff in Laguna Niguel, CA. Beginning July 1, 2017, Mr. Davies will join OC Dermatology's experienced staff of expert, compassionate skin specialists, where he will showcase his passion and commitment to unparalleled patient care. He has a B.S. in Health Science from Cal State Fullerton and an M.S. in Physician Assistant Studies from Western University of Health Sciences in Pomona, CA. He is a certified Physician Assistant by the NCCPA (National Commission on Certification of Physician Assistants) and holds a PA license for the state of California.
Says Dr. Lorrie Klein, medical director and practicing physician at OC Dermatology, "Shaun's passion and energy sold us immediately. He has the background, training, and 'it' factor that makes for a great healthcare specialist. We've very excited that he's joining us."
"I'm excited to start with OC Dermatology because it struck me as a place where I can flourish as a PA in dermatology," says Mr. Davies. "I already feel privileged being able to provide medical skin care to patients and now I'm honored to work with Dr. Klein and the outstanding staff at OC Dermatology. Being on a team of fellow skin specialists dedicated to the utmost in patient care with safe, effective, and customized solutions is what I had been looking for."
Medicine has always been a part of Mr. Davies's life – from surviving a bout of meningitis as a child to dealing with the death of his maternal grandparents from emphysema to enduring the death of his father from malignant melanoma – causing him to gravitate toward medicine without a second thought. His focus is on medical dermatology, particularly general surgery and skin cancer care and treatment. He is skilled, experienced, and highly trained in electrodesiccation, curettage, excisional surgery, and cryotherapy.
"My father's death from malignant melanoma had a great impact on my life," Mr. Davies says, "and it's a major reason I was drawn to dermatology. I enjoy performing skin checks and having the chance to find potential skin cancer lesions or growths on my patients. Perhaps saving a life – or, at the very least, improving one's quality of life – is very rewarding and it's why I wake up every day feeling blessed to do what I do."
A native of Durban, South Africa, Mr. Davies moved to California when he was a young boy. When he's not focused on skin and skin care, he enjoys spending time with wife Ashley and their two children Landon (5) and Tess (2). A big sports fan who has spent much of his life in Southern California, he's a big Los Angeles Lakers and Anaheim Ducks fan. For more on Mr. Davies and his passionate approach to solving various skin issues and concerns, visit http://www.OCDermatology.com/General-Surgical-Dermatology/.
"I was unable to see my father before his death," says Mr. Davies, "so helping others improve their lives is my motivation because I want to do right by him. I mean, I get to do what I love to do, which also helps people – it's a win-win! Whenever patients around Orange County are in Laguna Niguel, stop in and say hi even if you don't have skin problems. It'd be a privilege to meet you."
About OC Dermatology
Board-certified dermatologist and OC Dermatology Medical Director Dr. Lorrie J. Klein has few peers in the medical and cosmetic skin care field. In addition to her duties as physician and director of one of the most renowned dermatology practices in the country, she is also an educator. She has been an assistant clinical professor at UC Irvine, taught dermatology residents, and serves as a member of the education faculty at both Allergan and Merz. She is a trainer in the administration of several treatments, including Botox®, Kybella®, and Juvéderm®. She has won numerous awards and been voted Best Doctor by patients and peers numerous times.
OC Dermatology is a member of the West Dermatology network and provides comprehensive medical and cosmetic dermatology treatments for a variety of skin conditions, including skin cancer and various surgical procedures. The facility's laser center is among the largest in Southern California, and it's a region leader in Botox® and Juvéderm® treatments. Adjacent to this private medical practice is another of Dr. Klein's innovative ideas – a separate entity called Beauty Bar MD, an elegant world-class skin care facility that focuses on educating patients so they have input into the most effective, medical-grade skin care products for their condition.
For more information please visit http://www.OCDermatology.com
OC Dermatology
30201 Golden Lantern Suite B
Laguna Niguel, CA 92677
(949) 363-1788
CustomerService(at)OCDermatology(dot)com