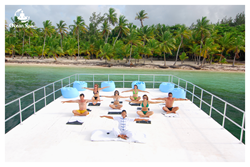 PUNTA CANA, Dominican Republic (PRWEB) April 08, 2021
Ocean Adventures, the marina and habitat in the Dominican Republic of The Dolphin Company family, the largest park operator in Latin America and the #1 swimming with dolphins company in the world, announced that they are ready to offer fun, educational and safe water activities to their visitors during the Summer Vacations.
Ocean Adventures was acquired by The Dolphin Company at the end of 2019, it offers excursions at sea in the Bavaro area of ​​Punta Cana. Among the activities it has are:

Sailing Splash, the experience of sailing on a catamaran, snorkeling in a beautiful reef and an exciting circuit that contains speedboats, encounter with stingrays and snorkeling with sharks.
Dr. Fish Ocean Spa, the only floating spa tour in the world, will pamper guests with relaxing treatments.
Caribbean Pirates, a fun treasure hunt that culminates in interaction with sharks and stingrays.
Swim with dolphins, a unique experience in which there is an educational interaction with bottlenose dolphins that will teach their guests the importance of caring for the environment and the species that inhabit it.
"We are ready to receive the tourists who visit us from different parts of the world and different points of the Dominican Republic during these vacations. We have innovative, safe and quality activities, designed with the aim of providing our guests with a fun, educational and unforgettable day, all this of course, under the strict safety and hygiene measures stipulated by the WHO, the Ministry of Tourism of the Dominican Republic and our comprehensive Dolphin Cares program that governs our operation during this contingency period", said Emmanuel Gilbert, General Manager for Ocean Adventures.