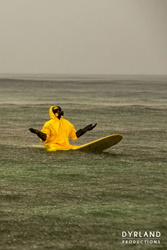 By 2050, ocean plastic is predicted to outweigh all of the ocean's fish.
HALEIWA, Hawaii (PRWEB) November 19, 2020
"Eye Witnesses Report Surfers Wearing HAZMAT Suits on Oahu's North Shore"
North Shore (Oahu) | November 17, 2020
'HAZMAT SURFING HAWAII' Photos Predict a Poisonous, Dark Future for Our Oceans
Dyrland Productions presents a new photo collection, "HAZMAT SURFING HAWAII," by Michael Dyrland. The series portrays a dystopian fate for surfers, lifeguards, and beach goers of the future who must wear hazmat suits to protect themselves from viruses, contaminated water, and plastics flowing into the ocean. It imagines the year 2040, a time in which PPE gear is required, with different levels and phases of protection fluctuating up and down and the surf report announcing the acidity and gallons of runoff every day.
Michael Dyrland's first photo series "HAZMAT SURFING" went viral five years ago across the internet and global media outlets, reaching millions of people across most countries! The photos predict where our ocean water quality might be headed should we continue to follow the current pollution and virus trends. The concept draws attention to the effects of microplastics, sewage, storm drain and pesticide runoff on wildlife and people. By 2050, ocean plastic is predicted to outweigh all of the ocean's fish. This project brings to light a raw view of what life may easily be like 20 years from now in an urgent and artistic way. Do we really want our summers to be like this?
To accompany this series is a mini-documentary by Trayvax, following Michael Dyrland as he creates "HAZMAT SURFING HAWAII", offering a unique glimpse into what it took to pull off the shoot during a flood as news of Covid-19 swept the nation.
"I wanted to do a follow up project based on my first photo shoot HAZMAT SURFING, but I wanted the photos to take place in a tropical location and dream vacation destination where everything feels lush and untouched, but deep down there are layers of pollution overlooked.
The photo shoot was scheduled for early March 2020 around Banzai Pipeline Hawaii and Waimea Bay. As I landed, the weather wasn't looking good, and a new COVID-19 virus was sweeping the world no one knew was coming, then it felt like all hell broke loose. It was weird, but perfect timing to bring awareness to these issues. Eventually beaches were closed, the world slowed down, and everyone had to stay in their homes for months." - Michael Dyrland
Dyrland Productions created "HAZMAT SURFING" & "HAZMAT SURFING HAWAII" in an effort to draw awareness to ocean pollution and start a conversation about ocean conservation and issues surrounding our Earth. We must take action now to restore ocean health before it's too late. This creative and unique photography and film project will be sure to raise questions about what the future of our oceans and planet looks like.
For more information, please visit: DyrlandProductions.com/hazmathawaii
https://www.trayvax.com/blogs/news/earn-your-story-hazmat-surfing
Contact:
Michael Dyrland
Drone | Filmmaker | Photographer | Producer
1-360-927-6317
DyrlandProductions@gmail.com