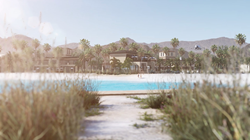 THERMAL, Calif. (PRWEB) November 13, 2020
Thermal Beach Club by WhiteStar Development, a planned private residential community with a man-made, clear blue lagoon touting American Wave Machines, PerfectSwell® wave-making technology and sandy beaches, will be the first of its kind in the U.S. The Riverside County Board of Supervisors unanimously approved the billion-dollar project in Thermal for 326 homes and a 20-acre lagoon, with proposed regional enhancements such as clean water, park creation and infrastructure upgrades.
"We are thrilled to move forward as we know the Thermal Beach Club will offer surfers and beach enthusiasts perfect conditions in an ocean-like environment with continuous days of desert sunshine, warm water and a safe beach experience," said Brian Grantham, co-founder of the project. "In addition, we are excited about the opportunities Thermal Beach Club will bring to the community in the form of jobs, tax revenue and the ability to create a robust infrastructure for the area," said Grantham.
Thermal Beach Club, a multi-generational private club, will be located about 150 miles from the Pacific Ocean on 240 acres of Kohl Ranch land in the Palm Springs area. It will offer beachfront living in the desert with a boardwalk surrounding the entire lagoon, 'on-demand' waves for various levels of surfing and other water activities for all members of the family.
"The clear lagoon at Thermal Beach Club will provide an environment for all generations to enjoy including up to eight-foot swells for surfers and a calm water area for toddlers, as the technology offers a controlled experience," said Patrick Belous, co-founder.
The 20-acre lagoon at Thermal Beach Club will be divided into zones with different 'ocean' currents for activities such as surfing, swimming, boogie boarding and child friendly areas. The 326 luxury residences will be set around the lagoon along with six-acres of white sand beach, a spa and fitness center, sport courts, retail, pool and swim-up bar, dining facilities and more.
The clear blue lagoon will use up to 50% less water than a typical private golf club in the desert communities. In addition, due to advanced technology, Thermal Beach Club's lagoon will not require draining and refiling for maintenance purposes.
In order to support the regional community, WhiteStar Development will be putting forth a community benefit payment of $2,300 per home, totaling $749,800. "The money may go towards community needs, such as improving access to clean drinking water or the building of a new park; plus we will invest around $4 million to extend infrastructure in the surrounding area, including paved roads and gas lines," said Belous.
Residences at Thermal Beach Club will range in size from 2,800-4,600 square feet and will cost between $1-$3 million, which includes purchase of the lot, a custom-built home and membership to the club. There will also be a private residence club option with memberships starting at $175,000.
In addition to the on-site amenities, the community will offer unique access to the nine golf courses at PGA West and special privileges at the nearby BMW performance center.
Next Steps
Securing construction capital and permits to break ground within the next 12-18 months.
Thermal Beach Club
Thermal Beach Club (TBC), located in the Coachella Valley about two hours outside Los Angeles, will be the first private residential community with a man-made, clear blue lagoon offering surf and wave-making technology in the U.S. The 20-acre lagoon will be surrounded by 326 high-end homes, six-acres of white sand beach, spa and fitness center, sport courts, retail, pool and swim-up bar, dining facilities and more. TBC, a multi-generational private club, sits on 240 acres of Kohl Ranch Land being developed by WhiteStar Development.
WhiteStar Development
WhiteStar Development is the development arm of WhiteStar Management, a premier high-end property management company in the Greater Palm Springs area with over 4,500 properties. Founded in 2001, WhiteStar has years of experience in real estate from managing entire communities to building private lakes and amenities. Surrounding themselves with top tier strategic partners, co-founders Patrick Belous and Brian Grantham spent five years creating the vision and securing entitlements for Thermal Beach Club, which carries no debt and was fully self-funded.
About American Wave Machines
American Wave Machines is the leading surf technology company covered by a broad patent portfolio producing authentic surf experiences. SurfStream® venues have capacity of 100's while PerfectSwell® surf pools are 1 acre plus with capacity in the 1,000's. Since 2007, over 3,000,000 sessions have been enjoyed at American Wave Machines locations around the globe.