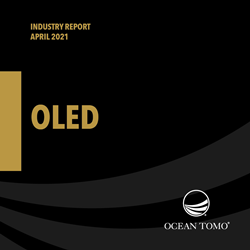 "Shutdowns and production delays caused by COVID-19 compressed growth in the OLED market for 2020, but looking forward, the Ocean Tomo OLED Industry Report reveals promising factors that will likely drive the post-Covid-19 OLED market."
CHICAGO (PRWEB) April 19, 2021
Ocean Tomo, LLC, the intellectual capital merchant banc™ firm, released its OLED Industry Report examining market opportunities, increased patent activity, and the growing complexity of intangible asset protection in the OLED industry.
The increased demand for eco-friendly lighting solutions and smart lighting systems offer lucrative opportunities for OLED market size growth. The market is expected to have a compound annual growth rate of 21.7% for 2020-2027. Growth is driven by trends in PMOLED displays, European and Middle Eastern OLED market initiatives, and the use of OLED technology in flagship devices of market leaders.
In the report, Kevin Bennett, Ocean Tomo OLED Industry Analyst, shares "shutdowns and production delays caused by COVID-19 compressed growth in the OLED market for 2020, but looking forward, there are promising factors that will likely drive the post-Covid-19 OLED market. To name a few, uses in smartwatches, automobiles, televisions and advertising displays, medical devices, and cell phones, coupled with consumer and government desire for eco-friendly lighting solutions make for a promising outlook of the OLED market. Strategies such as partnerships, private placement and M&A deals, and construction of new OLED panel manufacturing facilities suggests that market players are positioning to take advantage of the OLED projected market."
OLED industry growth is strong with recent merger and acquisition activity being driven by the quest for innovation and gain in market share. The value of an OLED patent portfolio is substantial and the need for expert patent strategy and transaction valuation partners is increasing in importance especially when facing patent litigation in areas such as consumer electronics.
In 2018 Ocean Tomo launched a series of Industry Analyst Reports providing a comprehensive look at current industry trends and deal activity. As a financial advisor focusing on technology and intellectual property (IP), Ocean Tomo has gained unique insights from more than 1000 engagements involving more than 100 different technologies. This experience has allowed us to understand the nuances of intellectual property protection across industries. Our reports currently examine the following industries: Automotive, Blockchain & Cryptocurrency, Cannabis, Cybersecurity, Federal Technology Use, IP Licensing, Medical Devices, and OLED. You can learn more about the industries covered by Ocean Tomo at https://www.oceantomo.com/media-center/industry-reports/.
Ocean Tomo Industry Reports share unique insights related to technology and the intellectual property driving business value. Daniel Principe, who oversees the creation of Industry Reports for Ocean Tomo, shares "the OLED report provides valuable industry predictions and demonstrates the unique value Ocean Tomo provides related the OLED IP market. Ocean Tomo's experience in a variety of markets will be further highlighted in future reports, including the next to issue updated IP Licensing Companies Report followed by an updated Blockchain and Cryptocurrency Report."
To learn more, download the OLED Industry Report. To explore this topic and its implications for your intellectual property assets and strategies, please contact Kevin Bennett (+1 713 223 7197 | kbennett@oceantomo.com) for further assistance.
About Ocean Tomo
Ocean Tomo, the Intellectual Capital Merchant Banc™ firm, provides companies with financial services related to intellectual property and intangible assets including financial expert testimony, intellectual property and complex financial instrument valuation, strategy consulting, risk & regulatory compliance, patent analytics, investment advisory, innovation management consulting and transaction brokerage.
Our Opinion, Management, and Advisory Services are built upon more than three decades of experience valuating intellectual property in the most rigorous of venues – State, Federal and international courts. Our financial and market experts along with leading technologists provide a unique understanding of the contributory value of proprietary innovation. This is the cornerstone of our business. This insight permeates every practice and client engagement.
Collectively, Ocean Tomo professionals have completed over 1000 engagements involving IP worth in excess of $100 billion including over 300 valuation and 500 financial damages expert testimony engagements.