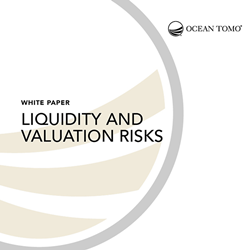 The paper, available in the Ocean Tomo Risk and Resiliency Center, outlines action plans fund and investment managers can put into place to navigate these uncertain times.
CHICAGO (PRWEB) August 04, 2020
Ocean Tomo Risk and Regulatory Compliance Managing Director, Manish Das authored a white paper focused on Liquidity and Valuation Risks for asset managers and investment funds. The paper, now available in the Ocean Tomo Risk and Resiliency Center, outlines action plans fund and investment managers can put into place to navigate these uncertain times.
Asset managers and investment funds are among the main holders of low-rated collateralized loan obligations. Given the increasing risks of a sustained global economic downturn as a result of COVID-19 highly leveraged companies could face difficulties in servicing their debt, with possible downgrades to high-yield bonds. There are pockets of high leverage in the (alternative) investment fund sector, which could amplify the impact of market volatility on funds' portfolios.
In this first quarter of FY 2020, rapid market declines in response to COVID-19 led to sharp mutual fund outflows after months of inflows. Funds had to sell bonds to redeem investors who caused an outflow of almost $240 billion. There was a rush out of prime money market funds, which invest in corporate debt, to the safety of government funds.
Systemic risk is rising, and some mutual funds have had to suspend redemptions due to coronavirus-driven market stress. High valuations in some asset classes may trigger future market corrections. During these uncertain times asset add fund managers should plan for how best to manage the liquidity and valuation risks in their funds.
Additionally regulatory focus which was put on the back burner in 2020 due to Covid-19 will continue to increase within 2021 and beyond, with firms having to make corresponding increases in risk, valuation, and compliance staff and/or hire specialist skill firms/resources to cope with increasing regulator demands and the challenges of implementing regulation effectively.
Regulators are turning their attention to asset managers, scrutinizing their risk culture and governance, interactions with customers and effectiveness in implementing required regulatory changes. The costs of not successfully meeting these challenges are likely to be increasingly significant in terms of monetary fines and reputational damage, both of which the industry can ill afford.
The paper outlines several action plans fund and investment managers put into place to navigate these uncertain times. Highlights below. For a fuller list please download the paper.

Periodic assessment of the portfolio structures, liquidity (cash) buffers at hand
Ensuring stress tests are conducted and dynamic scenarios considered
Analyzing funds investor base, behaviors, potential concentration risks
Timely valuations of NAVs, adjust NAV with swing pricing
Among others
To discuss this topic further, please contact the author, Manish Das of Ocean Tomo at manishdas@oceantomo.com.
About Ocean Tomo
Ocean Tomo, the Intellectual Capital Merchant Banc™ firm, provides companies with financial services related to intellectual property and intangible assets including financial expert testimony, intellectual property and complex financial instrument valuation, strategy consulting, risk & regulatory compliance, patent analytics, investment advisory, innovation management consulting and transaction brokerage.
Our Opinion, Management, and Advisory Services are built upon more than three decades of experience valuating intellectual property in the most rigorous of venues – State, Federal and international courts. Our financial, market and technical experts provide a unique understanding of the contributory value of proprietary innovation. This is the cornerstone of our business. This insight permeates every practice and client engagement.
Collectively, Ocean Tomo professionals have completed over 1000 engagements involving IP worth in excess of $10 billion including over 300 valuation and 500 financial damages expert testimony engagements.