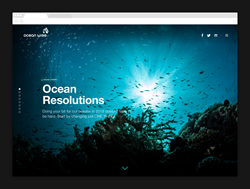 NEW YORK (PRWEB) July 30, 2018
Ocean Wise, a new organization for global ocean conservation, launched its purpose-driven storytelling web platform to much acclaim. Fast Company's World Changing Ideas competition and the RGD So(cial) Good Design Awards quickly recognized the digital experience among the best for design and photography for sustainability and social good.
Ocean Wise aims to inspire the global community to increase its understanding, wonder, and appreciation for our oceans. The organization envisions a world in which oceans are healthy and flourishing. As a brand new organization, Ocean Wise selected Engine Digital as an agency partner to design and launch its web platform. Non-profit organizations must deliver design-driven narratives and experiences to connect with younger audiences to raise awareness and inspire activism. Content and storytelling, paired with a mobile app-inspired interface, are at the core of the Ocean Wise platform. Stories are paired with rich visual content throughout the site.
The Association of Registered Graphic Designers (RGD) and its So(cial) Good Design Awards honored Ocean Wise for its strength in leveraging design for social good. Fast Company's 2018 World Changing Ideas Awards selected Ocean Wise as a finalist among 1,400 entries.
Fast Company's 2018 World Changing Ideas, now in its second year, celebrates businesses, policies, and non-profits poised to help shift society to a more sustainable and equitable future. Each of the 12 categories features a jury of prominent social entrepreneurs, venture capitalists, tinkers, designers, and one Fast Company editor.
The RGD So(cial) Good Design Awards recognize design projects from around the world under the theme of communication design for social good, with the power to incite action and make meaningful change in the way we live our lives. As today's designers have an ever-increasing responsibility to visualize the significant issues facing our society and find new ways to incite behavior change, RGD brings attention to the work that meets this mission.
ABOUT OCEAN WISE
Ocean Wise is a global ocean conservation organization focused on protecting and restoring our world's oceans. Building on the roots of the Vancouver Aquarium Marine Science Centre, which started as a community-based not-for-profit organization, Ocean Wise aims to inspire people in every corner of the planet to participate in creating healthy oceans.
For more information, visit: ocean.org.
ABOUT ENGINE DIGITAL
Engine Digital is a New York City and Vancouver based digital consultancy, product design, and engineering studio. The agency's mission is to help ambitious organizations invent their future through better customer experiences that span web, mobile, and emerging digital channels. Founded in 2002, Engine Digital is a trusted partner to some of the world's most recognized brands including Google, adidas, Pirelli, Lululemon, and the NBA.
For more information, visit: enginedigital.com.