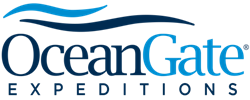 "From the moment we arrived we became active members of the expeditionary crew – It was like being in an action movie. Being in the deep of the Hudson Canyon was like landing on a different planet. The sea life was plentiful and driving the sub was like traveling through hyperspace..." - Mike Reiss
EVERETT, Wash. and NEW YORK (PRWEB) September 30, 2020
OceanGate Expeditions today announced its October 2020 Wrecks of the Northeast Deep-Sea Expedition with mission specialist participation. With its one of a kind 5-crewmember submersible capable of reaching 500 meters, citizen explorers will have the opportunity to directly observe and document wrecks that have been seen by only a handful of people.
This expedition announcement comes on the heels of the company's successful September 2020 dive in the Hudson Canyon, approximately 100 miles off the coast of New York City on the edge of the continental shelf. The first-of-its-kind manned submersible expedition was made possible by a cadre of citizen scientists who were trained as Mission Specialists and played active hands-on roles throughout the expedition.
"It's incredible that you can still be the first person to directly observe sites on earth. Most people don't realize how vast and unexplored the ocean is," shares Stockton Rush, CEO, OceanGate. "With the October expedition, we hope to document and shed light on some of the mysteries of the U-869 WWII German submarine, its degradation from trawl nets, and the variety of sea life on that and other wrecks along the Northeastern seaboard. Sharing this goal with citizen explorers makes these missions even more meaningful. Each Mission Specialist has important roles to fulfill that make our missions possible. I look forward to sharing the discoveries we will make during the October expedition with our entire crew," explains Rush.
Speaking of the September Hudson Canyon Deep-Sea Discovery Expedition "We have never experienced anything like this before, and my wife, Denise, and I have done a lot of adventure travel, including Antarctica excursions. This wasn't anything like the tourist nature of those trips," says Mike Reiss. "From the moment we arrived we became active members of the expeditionary crew – It was like being in an action movie. Being in the deep of the Hudson Canyon was like landing on a different planet. The sea life was plentiful and driving the sub was like traveling through hyperspace with the starry creatures swimming by as we explored 300 meters [900 feet] below the ocean's surface," recalls Reiss.
The October expedition is expected to run October 23 through November 1 and will depart from Staten Island, New York. Participating Mission Specialists will work alongside subsea experts and researchers, and will be trained for and fill meaningful roles throughout the missions.
To learn how to become a Mission Specialist and join our expedition crew, visit http://www.oceangateexpeditions.com or call +1 425-595-6343. Upcoming expeditions include the Wrecks of the Northeast Deep-Sea Expedition and the Titanic Survey Expedition 2021.
###
Media Inquiries | Lisa Dreher | lisa@oceangate.com | +1 425-442-1301
Expedition Inquiries | Kyle Bingham | kyle@oceangate.com | +1 425-595-6343
Investor Inquiries | Bob Shuman | bob@oceangate.com | +1 425-595-5017
Business Inquiries | Bob Shuman | bob@oceangate.com | +1 425-595-5017
CLICK HERE TO DOWNLOAD IMAGES.
ABOUT OCEANGATE EXPEDITIONS
OceanGate Expeditions is dedicated to direct human exploration of the undersea world. Not satisfied with scratching the surface of the ocean near the shoreline, OceanGate Expeditions charters manned submersibles to create expeditions which reach depths far deeper than can be reached with SCUBA. The organization conducts undersea expeditions to explore and document the 95% of the seafloor that man has never visited including iconic shipwrecks, hydrothermal vents, deep-sea canyons, and uncommon biological events around the world. These expeditions, to depths approaching 4,000 meters (13,000 feet), provide rare opportunities for citizen scientists to observe the mysteries of the deep sea and expand our understanding of our home, earth, the blue planet. Visit http://www.oceangateexpeditions.com.