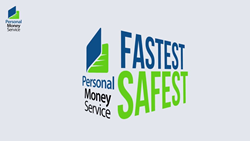 Oceonica Corp. acquires Personal Money Service
SAN FRANCISCO (PRWEB) January 25, 2021
Oceonica Corp. announced that it has acquired Personal Money Service Company, an online-based platform that connects consumers with trusted lenders across the USA. The purchase will better serve the need of Oceonica Corp.'s and Personal Money Service's clients across the country as the company strives to promote education in various spheres and deals with creating an innovative educational platform.
The acquisition of the Personal Money Service Company fits into Oceonica Corp.'s strategy to improve the overall level of education among American consumers and provide the best technology and services to help every citizen become more literate in different spheres, including personal finances and money management.
Now that Oceonica Corp will own Personal Money Service, it will not only better serve the needs of both companies' customers, but also bring more value to every American resident who wants to boost their education using modern technology. By purchasing the company, Oceonica Corp will provide education services in financial topics for Americans as well.
"Our acquisition of Personal Money Services complements our overall educational strategy so we can now provide numerous finance-related services to our clients. PMS is not only about loan services, this company is making a truly great contribution to financial literacy of everybody who visits their website. Our investment represents a significant strategic opportunity to help every customer deal with debt issues, improve their financial education, and learn about modern crediting options tailored to their personal needs and preferences," said Lincoln Arch, head sales manager of Oceonica Corp.
Being among the top online platforms in the USA, Personal Money Service presents a solid system of customer support. The company hires professionals who write on finance-related topics and help consumers receive quick assistance tailored to their financial needs. The Company has developed a reputation as an expert center for connecting borrowers with direct lenders.
More About Us
Personal Money Service is an online-based platform with an official website https://personalmoneyservice.com/ that assists American consumers in finding the most suitable crediting services and financial options. This service offers a wide range of relevant articles on financial topics. The company has already helped 200,000 people across the USA to solve their finance-related issues since 2013. Due to the growing demand for financial services and financial education, it was announced that
Oceonica Corp. acquires Personal Money Service to expand the company and bring more value in terms of education.
Oceonica Corp., based in San Francisco, California, is one of the leading providers of modern educational services to customers across the country through their web platform.
The main aim of the company is to offer high-quality education in various spheres to people using computerized technologies and innovative methods. To learn more information about Oceonica Corp. visit https://oceonica.com/.