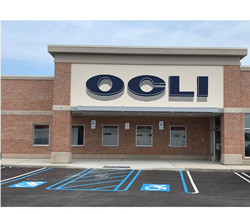 "Our newest office in Oceanside was designed for the ease and comfort of the patients, whose care remains our top priority."
LONG ISLAND, N.Y. (PRWEB) August 09, 2019
OCLI, a Spectrum Vision Partners (SVP) managed practice, today announced their Lynbrook location, currently at 360 Merrick Road, will be moving to a brand-new office in Oceanside, at 2860 Long Beach Road on September 3rd, 2019.
The new Oceanside office offers additional features and technologies to enhance the patient experience in the approximately 10,000 sq ft. space, including ample parking and first-floor access. Patients can receive diagnostic care and treatments for conditions such as cataracts, dry eye, and glaucoma, as well as services to treat retina, cornea and oculoplastic issues. With 12 world-class eye doctors to choose from, patients can feel confident they are receiving top-notch care.
OCLI is one of seven managed practices to join Spectrum Vision Partners since November 2017, when Spectrum announced its strategic relationship with the growth-oriented, private equity firm Blue Sea Capital. Since then, 25 eye doctors and 10 locations have been added across five affiliates.
SVP administratively supports the growth and management of some of the leading ophthalmology practices and eye ambulatory surgery centers in the New York, New Jersey, and Connecticut Tri-State area. In addition to OCLI, managed practices include Island Eye Surgicenter, Ophthalmic Consultants of Connecticut ("OCC"), New Vision Cataract Center, Glaucoma Associates of Long Island, Precision Eye Care, Huntington Eye Care and Long Island Eye Care.
Tom Burke, CEO of Spectrum Vision Partners, commented, "Our newest office in Oceanside was designed for the ease and comfort of the patients, whose care remains our top priority. The utmost care and planning from several members of our team were employed to create a space where we blend technology, comfort and innovative services, to provide an exceptional patient experience.
"Spectrum will continue to assist OCLI to build centers of eye care excellence, with the best and brightest clinicians we can attract. I look forward to future partnerships with the community of eye care providers who recognize OCLI's long history of transparent business transactions, their focus on excellence, and Spectrum's proven ability to fulfill their vision and meet their long-term goals."
For questions or further information regarding the OCLI team or Spectrum Vision Partners, please contact:
Tom Burke
Chief Executive Officer
tburke@spectrumvisionpartners.com
Justin Kuperberg
Chief Development Officer
jkuperberg@spectrumvisionpartners.com
About OCLI
Founded in 1997, OCLI (http://www.ocli.net) is one of the leading ophthalmology practices in the United States. OCLI boasts 21 state-of-the-art medical facilities across Manhattan, Nassau and Suffolk counties, housing the most advanced technology available, to offer patients a variety of ophthalmic services and treatments. OCLI is led by 41 highly skilled eye surgeons in each major sub-specialty of eye care, providing comprehensive eye care services, including treatment for cataracts, corneal disease, refractive surgery, glaucoma, oculoplastics, retinal disease, and neuro ophthalmology. OCLI also employs six Doctors of Optometry, three Physician Assistants, and one NYS Licensed Aesthetician.
About Spectrum Vision Partners
Spectrum Vision Partners (http://www.spectrumvisionpartners.com) is a leading management services organization, serving the ophthalmology sector. Spectrum Vision Partners has over 700 employees, providing world-class practice management solutions to a network of nationally renowned, multi-specialty ophthalmologists in the New York, New Jersey, Connecticut Tri-State region. The Spectrum platform in New York and Connecticut consists of 24 clinic locations, two State Licensed Ambulatory Centers, with 66 surgeons, doctors, and other medical professionals. Spectrum Vision Partners provides a comprehensive set of business support functions, including billing and collections, credential services, marketing, physician recruitment, ASC development, financial and accounting services, benefits and payroll management, and information technology. The company's corporate headquarters is located at 825 East Gate Boulevard, Suite 111, Garden City, NY 11530.