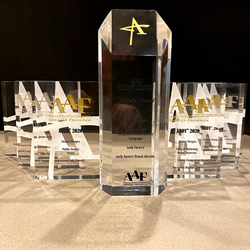 "We focus on making the most unique, functional and beautiful products for our clients, and it's so gratifying to see our team's hard work recognized." - Sue Hough, creative director and founder of Octavo Designs
FREDERICK, Md. (PRWEB) February 28, 2020
Octavo Designs received eight awards at the 30th Annual American Advertising Awards held by the American Advertising Federation of Greater Frederick. Octavo's work was recognized in multiple categories, receiving the Judge's Choice, Gold and Silver Awards. The American Advertising Awards are the most extensive and representative awards in the advertising field.
Octavo's work for Andy Factory was recognized with a Judge's Choice Award and Gold Award for brand identity, a Silver Award for stationery and a Silver Award for the Uncle Dell's Mambo Sauce bottle, the Any Factory's signature product. The Andy Factory is a D.C.-based company marketing homemade mambo sauce.
Octavo received two other Gold Awards, one for their Yeti or Not company holiday card and another for their poster for the Frederick Art Council's staged reading of Delusions by Proxy, a play by Brooke Adams.
Rounding out the company's winnings were two silver awards. One was for their web design for Top Nosh, a culinary services company based in Westminster, Maryland. The second was for their redesign of the Frederick County Chamber of Commerce logo.
"At Octavo, our focus has always been high-quality creativity," says Sue Hough, creative director and founder of Octavo Designs. "We focus on making the most unique, functional and beautiful products for our clients, and it's so gratifying to see our team's hard work recognized."
Octavo Designs specializes in web design and development, branding, marketing materials and package design. To learn more and view their portfolio, visit their website at http://www.8vodesigns.com.
About Octavo Designs
Octavo Designs, an award-winning graphic/web design firm, has been in operation since spring 2000. Octavo specializes in small, niche pieces that are fun, dynamic and unique, and offer a broad range of creativity from corporate to specialty looks. Visit them online at http://www.8vodesigns.com to learn more.