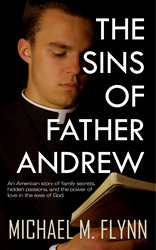 "I hope readers will see something in the book that transports them back in time, maybe a memory, a crush or something sinful they had to confess."
LOS ANGELES (PRWEB) September 23, 2020
Michael Flynn (no, not that one), sat down 7 months ago to write his second novel at age 84. An avid reader, former Catholic, and a proud native of Duluth, Minnesota, Flynn penned The Sins of Father Andrew, finishing up at 85. His novel follows Father Andrew Sullivan on his lifelong journey to balance the narrow path of the Catholic Church with the needs of a man in love (and lust). It also deals with a dysfunctional family, a killing, and a time when anything uncomfortable was never discussed aloud.
"I wanted to combine the rich memories of a Catholic Midwest upbringing, with a story of one priest's lifelong struggle to justify his indiscretions with the church – and the love in his heart for one woman," says Flynn.
The Sins of Father Andrew protagonist is Andrew, an impressionable Catholic boy in Kenyon, Minnesota, who must overcome a family killing, his mother's sinful affair, and eventually the advances of a charismatic 18 year old who secretly wins a challenge among schoolgirls to entice the handsome priest. Spanning across a lifetime, Flynn says, "The story is for anyone who grew up a Catholic, went to Catholic school, lives in the Midwest, or who has fallen for someone they couldn't have. That's pretty much everyone."
Getting his feet wet with his first book, Goodbye, Duluth, Flynn pushed himself to edit, rewrite and revise. "At 85, you must believe you can still learn something new, try something new, and push yourself to accomplish something that you've always wanted to do. Maybe it's not taking up downhill skiing - or maybe it is. If you break a bone… well, at least you tried."
Michael was the epitome of a "good Catholic boy" himself in a time when nothing coming from the Catholic Church was questioned or scrutinized. "As a 10-year-old altar boy, the church was my father, a light, and this mysterious entity we all looked up to. The nuns, the traditions, the mystery – it was our exotic story. We didn't have Netflix, Harry Potter, and Disneyland."
Like many writers, the Los Angeles based writer, pulled from his own experiences as a jumping off point, "My Irish father was an alcoholic who was often absent or showed up just in time to ruin Christmas. My Scandinavian Mother never questioned anyone or anything, but always wanted the harmony that we were taught at church."
The octogenarian has one wish, "I hope readers will see something in the book that transports them back in time, maybe a memory, a crush or something sinful they had to confess."
The Sins of Father Andrew is available Tuesday, September 29th, exclusively on Amazon.com.