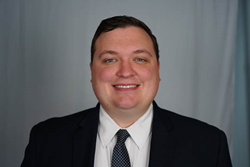 KINGSTON, Pa. (PRWEB) September 26, 2019
Personal injury law firm O'Donnell Law Office is pleased to announce attorney Gerard W. Gaughan has joined its team of experienced and skilled personal injury and medical malpractice attorneys.
"We are excited to have Gerard come on board as an of counsel attorney and expand our growing practice," said Neil T. O'Donnell, founding partner of O'Donnell Law Offices. Our law office has experienced steady growth over the last several years, and adding an energetic and talented law professional like Gerard will enhance our ability to give each and every client the time and attention he or she deserves."
I didn't realize I wanted to concentrate my practice of law in personal injury until my last year of law school, when a close family member was seriously injured due to the negligence of others. Seeing how much the injury and subsequent lawsuit affected my family gave me a lot of perspective. It reminded me that even though an attorney may be dealing with dozens of cases, each one is one of the most important things going on in the clients' lives. I wanted to use that experience to help families going through the same thing. O'Donnell Law Office gives me the best chance to do that. The constant contact we maintain with our clients allows me to understand what they're going through, and how I can customize my representation to best fit their needs.
Gerard will champion individuals and families throughout the region, focusing on car and truck collisions, workers compensation and Social Security Disability.
Gerard attended Scranton Prep, Penn State and Penn State University School of Law. He comes to O'Donnell Law Office after checking for Hon. Terrence R. Nealon, Lackawanna County Court of Common Pleas for 2 years.
About O'Donnell Law Offices
O'Donnell Law Offices is a Northeastern Pennsylvania personal injury law firm which has successfully represented all types of personal injury claims, ranging from auto and trucking accidents to product liability claims, to medical malpractice and wrongful death claims. The firm is located in Kingston, Pennsylvania, and its superb team of attorneys provides top quality legal representation and unparalleled service to its clients and the community. O'Donnell Law has been representing clients for more than two decades, and in that time has received numerous awards and recognitions. Visit http://www.odonnell-law.com or call 570.821.5717 for more information on the firm.
###