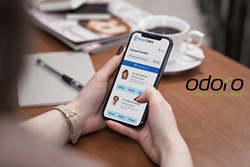 "It is all about improving Tampa General's commitment to quality care and patient satisfaction." -Jason Swoboda
NEW YORK (PRWEB) July 21, 2020
Odoro, a leader in digital patient access solutions, is pleased to announce that it is now available on Epic's App Orchard. Through the App Orchard program, Odoro provides the Epic customer community with smart, fully-integrated, patient self-registration, online scheduling and communications, enhancing healthcare provider workflows and the overall patient experience.
Odoro now allows Epic customers to engage with patients throughout all points of access- from provider search and online scheduling to pre-visit registration and referral management, increasing patient satisfaction and retention.
Epic customer Tampa General Hospital, ranked in top 10 by US News and World Report, serving a dozen counties with a population in excess of 4 million, will be live with Odoro in the coming weeks. "It is all about improving Tampa General's commitment to quality care and patient satisfaction," said Jason Swoboda, Associate director of Emerging Technology and Health Innovation. "We are pleased to improve the scheduling workflow, especially during these uncertain times. Integrating Odoro's digital platform with Epic, our EMR will improve the ease for those we serve to find and access our services."
The current pandemic is shaping new standards for healthcare, including a drastic shift towards remote patient care. Increasingly, patients are getting help from the comfort of their own home. Telehealth consultations and more options to schedule, register, and process payments online, ensure seamless care for patients and help accommodate social distancing. Odoro's comprehensive platform fully supports healthcare providers as they shift to modernizing their patient access workflows and helps ensure a quick response to patient needs and a safe practice environment.
"We see more and more physician groups that need a quick response for onboarding digital patient access options," said Ohad Ranen, CEO Odoro… "but they are not willing to compromise on their unique workflows and provider-patient matching preferences and priorities. Odoro's platform mimics the complex needs and logic of every health provider within a fully digitized workflow. Our deep integration means quick onboarding for Epic users and opens the door for hundreds of organizations to provide their customers with a new, rewarding experience."
App Orchard is Epic's third-party app developer program and online app gallery. For more information, go to https://apporchard.epic.com.
About Odoro
With over a decade of experience in patient access management, Odoro helps health systems and practices transform their patient experience. Our suite of digital solutions facilitates online scheduling, self-registration and patient communications, as well as referrals management across all points of access. Odoro's multi-layered technology and advanced algorithms efficiently and accurately match the patient, provider and location, integrating provider and health system preferences. The result - streamlined workflows, reduced inefficiencies and more satisfied, returning patients.
To learn more, visit: http://www.odoro.com.