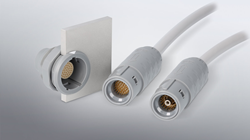 CAMARILLO, Calif. (PRWEB) June 14, 2022
ODU-USA launches ODU MEDI-SNAP® size 3.5, an extension of the highly reliable touch-proof connector series. Ideal for demanding applications such as medical, test and measurement, and industrial electronics, ODU MEDI-SNAP® is now available in a new size 3.5 with hybrid technologies capabilities as well as high-pole options.
Hybrid, high-pole, flexible
ODU MEDI-SNAP® size 3.5 offers special inserts for hybrid solutions including more signals in combination with power and fluids transmission. Additional customized solutions include media such as coax or fiber optics, which are available upon request. A signal-only version accommodates 41 contacts.
Additional key features:

Maximum performance in the smallest installation space
o Up to 41 signal contacts
o Signals, power and fluids combined in one interface
o Solutions for coax and fiber optics available on request

User-friendly, safe and reliable
o Push-pull locking
o Optional PCB termination for high pole density enables an easy assembly
o Highest patient protection : IEC 60601-1: 2 MOPP, 2 MOOP

o High variety of media inserts and pin layout options due to its modular design
o Various options available: Sealed/unsealed straight plugs in combination with sealed/unsealed receptacles for front or rear panel mounting

Lightweight plastic housing
Autoclavable
ODU offers complete systems consisting of push-pull connectors, cables with matching termination and labeling.
ODU MEDI-SNAP® size 3.5 is suitable for medical, test and measurement, and industrial electronics applications such as, but not limited to: test equipment, battery balancers, defibrillators, robot connections, endoscopes, LED devices, entertainment systems or uninterruptible power supplies.
Find out more at: https://odu-usa.com/products/circular-connectors/odu-medi-snap/
ODU Group: global representation with perfect connections
The ODU Group is one of the world's leading suppliers of connector systems, employing 2,500 people around the world. In addition to its company headquarters in Mühldorf am Inn (Germany), ODU also has an international distribution network and production sites in Sibiu/Romania, Camarillo/USA, Shanghai/China and Tijuana/Mexico. ODU combines all relevant areas of expertise and key technologies including design and development, machine tooling and special machine construction, injection, stamping, turning, surface technology, assembly and cable assembly. The ODU Group sells its products globally through its nine subsidiaries in Denmark, England, France, Italy, Sweden, the US, China, Korea and Japan, as well as through numerous international sales partners. ODU connectors ensure a reliable transmission of power, signals, data and media for a variety of demanding applications including medical technology, military and security, eMobility, industrial electronics, and measurement and testing.