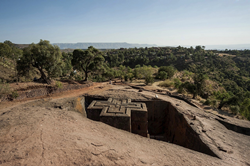 As a pioneer in small group travel, Odysseys Unlimited is known for its innovative tours to the world's most intriguing destinations, with the ideal balance of comfort, hands-on experiences, local content and cuisine, and superb guides.
NEWTON, Mass. (PRWEB) June 04, 2019
Small group specialist Odysseys Unlimited continues to make the world more affordable and accessible with its newest offering, the 15-day Ethiopia: Cradle of Civilization, launching January 17, 2020.
Limited to just 10 to 16 guests, Odysseys Unlimited's new Ethiopia small group tour journeys through a land truly apart -- the place where man first walked the earth, where age-old cultures resonate and a profound spirituality imbues everyday life. The only African country never to be colonized, Ethiopia moves to its own rhythmic drum, even measuring time on its own calendar that runs seven to eight years behind the Gregorian calendar used in North America, Europe, and much of the globe. The most mountainous country in Africa with epic landscapes, abundant yet underrated wildlife and a melting pot of different cultures with over 80 ethnic groups and languages, Ethiopia rewards travelers at every turn.
Here's Lucy…! The small group tour begins in Ethiopia's capital city of Addis Ababa where guests visit the National Museum, home to the 3.5 million-year-old fossilized hominid Lucy. Guests then fly to Bahir Dar on the shores of Lake Tana, origin of the Blue Nile, for a visit with the Weyto people and a cruise on Lake Tana. Tours of the churches of the Bahir Dar Peninsula are followed by a visit to the Blue Nile Falls where guests hike to the top for commanding views.
The itinerary continues with a tour of Gondar's Fasil Ghebbi ruins, followed by two nights in Simien Mountains Park, one of Ethiopia's nine UNESCO World Heritage Sites (more than any other country in Africa). A full-day safari in Simien Mountains National Park showcases Ethiopia's rare and endemic wildlife, including the sociable gelada baboon, the world's rarest ape (and not actually a baboon despite the name); the endangered Walia ibex, and the Simien fox. Other tour highlights include a visit to the Palace of Queen of Sheba, the archaeological sites of the holy city of Axum, and the legendary rock-hewn churches of Lalibela.
Priced from $5,497 total price from Boston and New York ($4,895 air and land inclusive plus $602 airline taxes and departure fees) and slightly higher from other gateway cities, , Odysseys Unlimited's 15-day Ethiopia: Cradle of Civilization debuts in 2020 with 11 departures: January 17, February 7, March 6, April 17, May 8, May 22, September 25, October 9, October 23, November 6 and November 27.
An optional five-night/six-day extension to Southern Ethiopia, just $1,995 including domestic air within Ethiopia, brings guests to the southern Omo Valley, home to indigenous tribes each with its own rich traditions, and to the wildlife of two national parks.
Odysseys Unlimited is introducing three other new small group tours for 2020: Discovering Provence which travels from the hill towns to the Camargue plains, medieval villages and on to the storied French Riviera (12 days from $3,997); Ecuador & the Galapagos Islands, a deep dive into Ecuador's colonial heritage, rich artisan culture and the wildlife of the Galapagos (11 days from $5,972): and Treasures of Jordan including rose-red Petra, Roman Jerash, lunar-like Wadi Rum, and the restorative Dead Sea (11 days from $3,297). All tour prices above include international airfare.
Six-time honoree of Travel +Leisure's World's Best Tour Operators award, Odysseys Unlimited is the leader in high quality, affordable small group travel. Limited to 12 – 24 guests, and led by top-rated Odysseys Unlimited tour directors, improvisation is a hallmark of the small group experience. The company offers fully refundable deposits up to 95 days before departure, and savings of $100 to $300 per trip for repeat guests.
Visit http://www.Odysseys-Unlimited.com for more details, including the day-by-day itinerary for Ethiopia: Cradle of Civilization, and to learn more about Odysseys Unlimited's 2019 – 2020 collection of 60 small group tours, or call 1-888-370-6765 ext. 700 to request a free catalog.