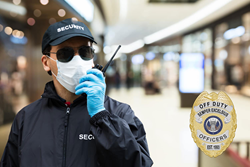 Off Duty Officers is unique in its ability and willingness to provide security guards on short notice for short term assignments.
SAN DIEGO (PRWEB) August 05, 2020
Off Duty Officers, one of the leading security companies in the nation, continues to build its security operations capabilities during the COVID-19 pandemic in response to increasing need for private security guards. With our additional resources, we have responded to requests for security guards for site security during protests, retail loss prevention, personal protection, traffic and crowd control for social assistance locations, food distribution and COVID-19 testing sites. Off Duty Officers is unique in its ability and willingness to provide security guards on short notice for short term assignments.
Off Duty Officers have also implemented extensive internal control and incentive processes to assure guards are on-site as contracted. These protocols include attendance pay incentives, extended sick pay and quarantine pay to assure guards are not carriers and are fully capable and focused on providing professional security service.
As part of our adherence to safety guidelines, Off Duty Officers will:

Review relevant local/state regulative agency policies and orders.
Implement safety and security measures when a company and/or event creates a plan to conduct daily health checks (e.g., temperature screening and/or symptom checking) of staff and attendees.
Restrict staff or participants that display symptoms or have a fever.
Ensure adherence by security personnel for social distancing before, during, and after shifts and events, including restricting participation to an event, manning physical barriers and restricting access to your preset limits, and staggering exit times.
Our Security company continues to deliver professional security services as we operate alongside companies and event organizers, to implement the emergency plans they have in place. Having a uniformed guard takes YOUR employees off the front line of enforcing whatever guidelines you need implemented. Locations with visible, uniformed security guards experience an immediate broader acceptance of Coronavirus safety precautions and an overall less stressful environment.
Off Duty Officers provides security guard services in all 50 states with regional office locations in Colorado, California, Florida, and Texas. Our security personnel, regardless of their assignment, are committed to the health and safety of our clients and their customers.
ABOUT OFF DUTY OFFICERS
Off Duty Officers, Inc., excels in tailoring specific security details for every possible security requirement. You will receive licensed, experienced professional security personnel when and where you need them. Whether you require off duty law enforcement or standard, licensed guards for temporary security or long term security services, Off Duty Officers will tailor the right security detail to meet your safety, security, and budget requirements.