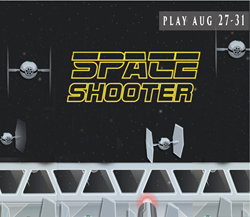 The OfferCraft Facebook campaigns have been some of the most successful digital marketing campaigns we've ever run.
Las Vegas, NV (PRWEB) August 23, 2017
OfferCraft, a software company that uses artificial intelligence and gamification to help companies increase customer revenue and employee engagement, has teamed up with Swinomish Casino & Lodge in Anacortes, Washington, to launch weekly gamified offers that customers can play on the new website SwinBig.com, in email and via social media. And each week, the Swinomish Team offers a live look at each game on Facebook.
The games, themed around a movie series, summer holidays and casino amenities and anniversaries, have been received enthusiastically by more than ten thousand people, and the prizes have driven hundreds of players each week to visit the property. Since initially launching in May, the weekly gamified offers have driven 6.97 times the number of redemptions compared to similar offers on Facebook and email made a year earlier.
Promotions using Facebook Live videos and SwinBig.com have led to a 15 percentage point increase (from 10% to 25%) in the reward redemption rate in the 2017 summer movie campaigns compared to 2016.
"Our audiences across social media love the games," said General Manager Jay Ellenberger. "We couldn't be happier — these have been some of the most successful digital marketing campaigns we've ever run."
Creative Facebook Live campaigns have been the key to successfully promoting the games. Fans can watch livestream videos as the week's new promotional game is introduced, driving thousands of video views each week, with an average viewing time of more than 10 seconds. The Facebook Live videos have directed viewers to the new website and have turned SwinBig.com into the number one source of referral traffic to the Swinomish website. Since seeing the success from the live videos and the website traffic, all digital games are now housed at Swinbig.com.
Swinomish has run more than 130 gamified campaigns for new patrons, Player's Club members, and even employees since it began working with OfferCraft in January 2016. The property is about to begin using OfferCraft's software to present information and training to employees in exciting and memorable new ways, including distributing benefits package information and forms through OfferCraft's HR toolset.
"Swinomish has consistently been a wonderful partner," said OfferCraft CEO Aron Ezra. "They are constantly pushing the envelope to deliver more to their guests, leveraging larger trends around livestream video and watching people play video games online to bring the thrill of the gaming floor to people's mobile phones. We can't wait to see what they'll do next."
For more information about Swinomish Casino & Lodge, visit http://www.swinomishcasinoandlodge.com/
For more information about OfferCraft, visit http://www.OfferCraft.com/. Or you can schedule a demo with OfferCraft at the upcoming G2E Gaming Convention and Expo in Las Vegas, October 3-5, 2017 by emailing sales(at)offercraft(dot)com.
About Swinomish Casino & Lodge
Located on the pristine Washington coast, the Swinomish Casino & Lodge is owned and operated by the Swinomish Indian Tribal Community, descendants of groups originating in the Skagit and Samish River valleys, as well as the surrounding coastal areas and islands. Over the years, the company has grown, but its philosophy and commitment have always remained the same: to be the friendliest casino in the area with outstanding customer service and to provide guests a luxurious, state-of-the-art experience while maintaining and upholding the Swinomish Tribe's cultural identity. Swinomish Casino & Lodge is a full-service entertainment destination including a 98-room luxury lodge, a 9,000 square-foot multipurpose event center, and a casino featuring Las Vegas-style gaming with over 800 of the latest slot titles and table games, including Blackjack, Craps, Roulette, Pai Gow, and Keno. For more information, please visit SwinomishCasinoandLodge.com.
About OfferCraft
OfferCraft is a Software-as-a-Service company that helps organizations make their incentives and information as compelling as possible. Inspired by behavioral economics, OfferCraft's unique gamification and artificial intelligence software makes conventional marketing and HR outreach more memorable and effective — motivating many more people. For more information or to request a demo, visit http://www.OfferCraft.com.