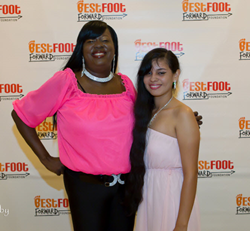 Off Lease Only and Best Foot Forward are beyond grateful to have the ability to make a difference in Selena's life. She truly deserves a break and what better than a car to get her to and from school and work!
Lake Worth, Florida (PRWEB) July 02, 2014
Despite moving 10 times in eight years, Selena Barrera beat the odds and graduated from high school in May, thanks to a devoted foster mother and support from non-profit agency Best Foot Forward that helped her with academics. When Off Lease Only owners Mark & Eileen Fischer heard Selena's story, they knew this would be the next recipient of our Strive to Drive Challenge. The anticipation is building as they are about to give Selena the surprise of her life! A donated car.
Join us for the big surprise this Wednesday, July 2nd at 3:30 p.m. The car will be presented at Off Lease Only's Lake Worth dealership located @ 3531 Lake Worth Road, Lake Worth, Fl 33461. Off Lease Only owners Mark and Eileen Fischer will surprise the soft-spoken student with a car so she can drive to her classes at Palm Beach State College. The timing couldn't be better seen as it is just two days after Selena's 20th birthday. Selena will be the first in her family to attend college.
"Selena's story touched our hearts and we are very much looking forward to doing something kind for someone this deserving," said Off Lease Only Owner Mark Fischer. "To be moved around ten times in 8 years is something no child should have to go through. I hope giving her a car will make getting to college and everyday tasks in general a little easier."
"Words cannot express our gratitude to Off Lease Only for their incredible generosity," comments Debbie Ellman, Co-Founder of Best Foot Forward. "They are changing lives by giving these young adults an automobile." She adds, "Having reliable transportation is essential to establishing independence. This gift will help them stay on track and ease the transition of being on their own."
Off Lease Only will retain possession of the car until Selena takes her driving test in about two weeks and gets insurance.
Fischer also credited BFF with providing Selena with the academic support to graduate from high school.
"Best Foot Forward is an incredible organization and I am beyond proud to be partners in the Strive to Drive Challenge," Fischer said.
Selena's devoted foster mother Twiler Smith; BFF founders Debbie Ellman and Donna Biase; and Selena's guardian ad litem Pat Bennett will be on hand to witness the big surprise. Smith, Ellman, Biase and Bennett have been involved in Selena's life for at least five years and have seen Selena blossom from a struggling middle schooler to a college-bound high school graduate.
"From foster care to high school to success. She made it," said foster mother Twiler Smith. "If it was not for BFF, I don't know what would have happened to her. They never gave up."
Selena was behind in school when BFF got involved and provided after-school tutoring, inspiration and encouragement. BFF tutored Selena until she was able to pass the FCAT and the ACT. She graduated from Palm Beach Lakes High School on May 22nd. BFF also helped Selena complete a college application to Palm Beach State College so she could attend classes there.
In addition to the generous car donation, Off Lease Only's partnership with Cirque Dreams is making this event even more magical! Cirque Dreams Jungle Fantasy is an exotic encounter inspired by nature's unpredictable creations brought to life by an international cast of soaring aerialists, spine-bending contortionists, acrobats, jugglers and musicians. The Broadway Hit will play the Broward Performing Arts Center July 22nd- 27th, and they have generously donated 4 tickets plus backstage passes to give to Selena as an additional reward for being such an inspiring young woman.
"Imagination is everything when it comes to Cirque Dreams. There are no boundaries and no limits to what these talented acrobats, musicians, dancers and singers can do," says Monique Hausheer, Marketing Director for Off Lease Only. "I am beyond grateful for their interest in sharing the exciting world of Cirque with Selena. You can achieve whatever you put your mind to. I think watching the show and then meeting the talented performers back stage will be incredibly motivating to this beautiful and deserving young lady. Not to mention she will arrive in style driving her car thanks to Off Lease Only!"
About Best Foot Forward: Best Foot Forward is the only agency in Palm Beach County exclusively dedicated to the education of foster care youth. Founded in 2010, BFF currently has 61 students in 32 schools. Nationally, only 46 percent of youth in foster care graduate high school. BFF removes many barriers and offers guidance, planning and coaching needed for educational success. To date, BFF has a 100 percent high school graduation rate. BFF provides consistent program services to the student as long as their case remains open and they remain in Palm Beach County. For more information, visit BFF's website at http://www.bestfoot.org.
About Off Lease Only: Off Lease Only is the Nation's #5 Volume Car Dealership and believes strongly in giving back to the community. Off Lease Only teamed up with Best Foot Forward in 2011 to start the Strive to Drive Challenge where one outstanding student gets rewarded with a pre-owned car. This partnership was created to encourage foster children to go above and beyond in their education. Off Lease Only has over 2000 cars all priced thousands below retail. No dealer fees, no negotiating and no stress is what makes this car dealership unique. To learn more about Off Lease Only log onto http://www.offleaseonly.com.