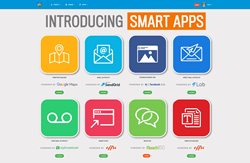 This is the game changer every agent has wanted for years, but no one has delivered until now.
SARASOTA, Fla. (PRWEB) November 07, 2019
offrs.com (offrs), a market-leader in predictive analytics and lead generation in real estate, today launched Smart Apps Powered by A.I., its app marketplace that leverages the power of its Smart Data to drive marketing automation. The initial launch will unveil eight premiere apps that include marketing automation for email, direct mail, online ads and voice mail. The initial launch will also include apps that allow agents to access leads anywhere in the U.S., including Smart leads, FSBO, Expired listings and Facebook leads.
offrs' proprietary machine learning algorithm processes over 300 data points to predict future real estate transactions and leverages artificial intelligence to optimize marketing. Smart Data makes Big Data and predictive analytics accessible to real estate agents in a way that allows them to leverage unprecedented data to inform business decisions and drive marketing campaigns to success.
The Smart Apps platform will focus on providing real estate agents applications that leverage AI, big data, and marketing automation to grow their businesses, while saving money by focusing marketing and lead generation budgets on consumers most likely to transact.
"This new version of our platform is truly the result of working with thousands of agents and gathering data and feedback on how we could best impact the success of our customers. We are working with our partners, other 3rd party apps and innovating ourselves to bring something truly unique to the market," said Rich Swier, founder of offrs.com and architect of the new platform.
Customers on the new offrs platform are able to manage their marketing strategy and budget from a single location within Smart Apps, providing flexibility and real-time optimization with the ability to pause and reallocate budget based on campaign performance.
"This is the game changer every agent has wanted for years, but no one has delivered until now," said Troy Theil of the Thiel Team at Windemere Yarrow Bay. "With a few clicks, I will be able to run all my marketing campaigns and manage them from one central place. Direct Mail, Email, Facebook… it has it all."
The first series of apps on the Smart Apps Powered by A.I. platform include:

Territory Builder – Customizable access to Smart Data and leads
Marketing Autopilot Apps – Automated marketing apps for Facebook, email, voicemail and direct mail. All marketing apps leverage the Template Builder app to allow the agent to customize their marketing campaigns
Smart Sites – An application that generates lead-capture websites that deliver unique home valuation experiences for leads
Reach150 – The first third-party app on the Smart Apps platform, Reach150 allows agents to launch review websites and provides reputation management
offrs plans to grow the number of apps available in the Smart Apps Powered by AI marketplace, adding both native and third-party applications that leverage their Big Data and AI powered algorithms to improve effectiveness and optimize the day-to-day business of real estate agents.
For more information, users are encouraged to tune in at 11AM EST for a live webinar event featuring offrs.com Founder, Rich Swier – "Launch of offrs.com Smart Apps Powered by A.I."
About offrs.com
Since 2012, offrs.com has been a leader in Big Data and Predictive Analytics for real estate agents and brokerages nationwide. offrs.com serves thousands of real estate professionals from major national franchise brands and large independent real estate brokerages across the U.S. offrs.com is part of the Constellation Real Estate Group, which is a division of Constellation Software, Inc. The Constellation Real Estate Group operates a diverse group of leading technology brands in the real estate and mortgage industries.
For more information, visit https://offrs.com/
For more information on the Constellation Real Estate Group, visit https://www.constellationreg.com/