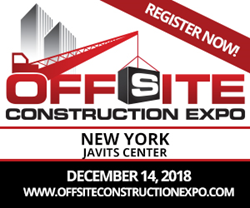 NEW YORK (PRWEB) November 08, 2018
The event will take place at the Javits Center Friday, December 14, 2018. OSCE will offer focused presentations of the abilities of offsite construction across all markets. With the steady adoption of offsite construction methods across North America, there is simply no greater opportunity to reach key partners in the industry.
This year, successful Offsite Construction Expos were held in Vancouver in June and San Francisco in September. Attendees and exhibitors alike will benefit from the variety of modular vendors and component suppliers all in one room.
The expo features exhibits of modular and offsite construction processes including panelized, modular/volumetric, hybrid, and sub-assembles/components. These systems and processes are ideal for the education, healthcare, hospitality, retail, multifamily, and office markets.
Exhibitors include offsite construction contractors, traditional contractors, offsite factories, materials suppliers, and consultants of all types of offsite construction processes. Exhibit space is limited and selling quickly.
Additionally, each expo will include several presentations from industry leaders on the latest trends and developments in offsite construction. The following will be featured at OSCE New York:
Alicia Glen, New York City Deputy Mayor for Housing and Economic Development, will give the opening remarks.
John Cohen, policy advisor for New York City's Housing and Economic Development, will discuss how New York City is embracing modular construction to accelerate the development of affordable housing.
Laurie Robert, VP of Sales & Marketing at NRB, Inc. and John Buongiorno, Modular Division Director at Axis Construction Corporation, will explore what it takes to choreograph and execute a more effective permanent modular construction project, from the significance of early engagement to the end goal of early occupancy.
Ewelina Woźniak-Szpakiewicz, CEO and Managing Director at DMD Modular Ltd. will discuss the role of modular construction in the hospitality industry.
The 2018 Offsite Construction Expo – New York is hosted by the Modular Building Institute. More information and registration available at http://www.offsiteconstructionexpo.com.