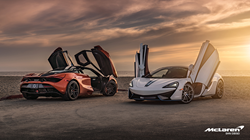 McLaren Beverly Hills is proud to be the #1 dealership in the world and will continue to grow the McLaren family in San Diego.
SAN DIEGO (PRWEB) November 07, 2018
After acquiring the Beverly Hills dealership at the end of last year – which has become the most powerful, highest volume McLaren Dealership in the world, O'Gara Coach Co. continues its expansion, opening the first McLaren dealership in San Diego.
San Diego's luxury car buyers are enthusiastically welcoming the news, ready to not only possess one of the world's most exceptional cars, but also have access to unparalleled driving and lifestyle experiences.
"We are very excited to represent McLaren in San Diego", says Tom O'Gara, co-founder of the O'Gara Group. "McLaren ownership takes it a step further through their bespoke division, McLaren Special Operations (MSO). MSO is driven by a passion for perfection and allows owners to create ultra-exclusive, limited edition or one-off models."
The legendary brand is the embodiment of pioneering technology, fearless engineering, beautiful yet purposeful design, and relentless spirit. These McLaren principles create a unique experience of confidence, sophistication, humanity, and authenticity for customers; what could be described as the McLaren personality.
Clients will have the opportunity to become members of the O'Gara Owner's Club, with exclusive access to events and track days. The official driving program of McLaren Automotive – Pure McLaren – will offer owners expert guidance in and out of the car to maximize performance.
O'Gara also offers its own driving program based out of The Thermal Club. They are the only dealership offering private charter flights to McLaren owners to the members-only private track. O'Gara clients will be able to unleash the full power of the McLaren line-up, be it the 570S, 720S, or the much anticipated McLaren 600LT.
Everyone at O'Gara La Jolla is honored to have won the McLaren franchise, a testament to the group's award-winning service, proven track record, and experience with ultra-luxury buyers.
"As McLaren San Diego, we aim to be the most admired ultra-luxury auto retailer with a strong commitment to excellence and customer satisfaction", says Tom.
You can make an appointment to visit the McLaren San Diego showroom, or attend one of their public car show events, such as San Diego GT - Cars & Coffee Reinvented, where the McLaren Senna and the McLaren P1 GTR made an appearance.
About O'Gara
The journey begins in 1976, when Tom O'Gara and his brother Ed found their first dealership with Stutz Motor Cars on Rodeo Drive.
Having experienced great success in the retail segment, Tom decides to pursue his desire of manufacturing and acquires famed armoring company Hess & Eisenhardt in 1982, building unique armored vehicles for over 60 heads of State including the President of the United States. But Tom's true passion is bespoke luxury and performance automobiles. In 1998, he acquires the Rolls-Royce Beverly Hills franchise and shortly after Aston Martin, Bentley, Bugatti and Lamborghini.
In 2012, O'Gara Westlake village opens, and O'Gara La Jolla in 2015.
To this day, the O'Gara dealer group owns 18 franchises. The rest, as they say, is history.
San Diego GT: sandiegogranturismo.com
Website: mclarenofsandiego.com