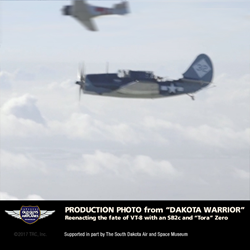 We wondered, "What does it mean to be a Warrior?" John Mollison, producer
Sioux Falls, SD (PRWEB) August 16, 2017
"Old Guys and Their Airplanes" (OGTA), the internationally award-winning on-demand webshow, announces the release of a Teaser to promote their upcoming episode, "Dakota Warrior."
Dakota Warrior features South Dakota WWII torpedo bomber pilot, part Lakotan (Native American) and U.S. Naval Academy graduate, LtCDR John C. Waldron. Waldron led the famous "Torpedo 8" squadron that attacked the Japanese fleet during the Battle of Midway, June 4, 1942. Though the attack cost the lives of 29 of 30 pilots and crew, the moment was crucial in turning the battle into a stunning American victory and sealing Japan's fate in WWII.
The Teaser features aerial footage filmed using a WWII Curtiss SB2c Helldiver used to simulate the experiences of Torpedo 8's defense against Japanese fighters during the battle. However, perhaps the most compelling aspect of the Teaser is that it's introduced in the Native American Lakotan language.
"Waldron's story is captivating on many levels," explains show producer, John Mollison. "It describes the complexities of leadership, the challenges of command and the power of fate. But, there's no doubt that Waldron's Native American heritage played a significant role in his defining character."
The Battle of Midway story is highly documented and oft discussed. However, Dakota Warrior is more about discovering Waldron's character and trying to give the average 21st Century person an idea of what it took to fight under overwhelming circumstances.
The episode features commentary by decorated Vietnam War Combat Medic and Lakotan, Francis Whitebird as well as acclaimed author and historian Barrett Tillman.
The finished episode is scheduled for completion in September with Premiere's and Screenings in Fort Pierre, The South Dakota Air and Space Museum and other locations.
The Teaser can be viewed at http://www.oldguysandtheirairplanes.com or https://vimeo.com/228817852
Dakota Warrior was produced with support from: The South Dakota Community Foundation, Dr. David West MD, Sanford Health, Monsour Karim, Black Hills Federal Credit Union, First National Bank, The City of Fort Pierre, Bob "Von" Liebman and The South Dakota Air and Space Museum.
For more information: John Mollison, john@johnmollison.com or 605.261.6070