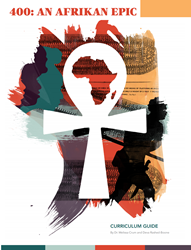 "This curriculum is a timely and highly relevant resource to help students at all grade levels understand the historical content of the social and political unrest that surrounds us," Dr. Lomax
COLUMBUS, Ohio (PRWEB) July 23, 2020
As educators prepare to start a school year centered around virtual learning, Dr. Mark Lomax, II, an award winning composer, artist and educator, along with Mosaic Education Network founder Dr. Melissa Crum are introducing an educational resource that enhances the understanding of Afrikan history. This multi-disciplinary curriculum takes a wholistic look at the triumphs and tragedy of the Afrikan people from pre-colonial Afrika to Afro-Futurism and was developed as a visual tool to bring forward the stories told through Lomax's groundbreaking musical composition 400: An Afrikan Epic, inspired by the arrival of the first Afrikans on the shores of Virginia in 1619.
"This curriculum is a timely and highly relevant resource to help students at all grade levels understand the historical content of the social and political unrest that surrounds us," Dr. Lomax said. "When stories are shared through an art form like music, the intent of the composer does not always translate with the listener. This project gives us an opportunity to facilitate a deeper thinking and understanding of the context of the musical work and opens the door for teachers to guide students through new concepts and perspectives as they relate to Afrikan history."
The musical work 400: An Afrikan Epic was originally released in 2019 as a 12-album cycle with more than 8.5 hours of music that transports listeners through chronological abstractions of the Afrikan experience through past, present and future, powered by the soul-moving sounds of drums, strings, woodwinds and piano.
The curriculum materials follow the album's three-part categorization and draw the readers into the culture and progression of the people from (1) Alkebulan: The Beginning of Us, a history of pre-colonial Afrika; (2) the Ma'afa ("Black Holocaust"): Great Tragedy, the trauma of Afrikan people's nadir experience in the diaspora; and (3) Afro-Futurism: The Return to Uhuru, conceptualizing a forthcoming Afrikan experience beyond the present.
To intertwine the curriculum and album, Dr. Lomax partnered with co-authors Dr. Melissa Crum, a diversity and equity practitioner in Columbus and the founder of Mosaic Education Network, and Deva Rashed-Boone, a Columbus-based writer and educator.
"Our job is to create spaces for students to experience the world in different ways and help connect their everyday understanding to larger institutions," Dr. Crum said. "Traditional approaches to Afrikan and Afrikan-American history are often taught from a deficit perspective, whereas these works celebrate the resilience, brilliance, strength, genius and creativity of a people who continue to endure while offering an inspired view of the future. This curriculum encourages educators to see this as a direct connection to American history and not just Black history and thus have the opportunity to humanize people who have not always had an adequate systemic platform to share their humanity in an authentic way."
The 90-page full color print and digital curriculum guide contains historical overviews, definitions, discussion questions, and over 100 scholarly references that encourages high school and college learners to think critically about Afrikan history through an alternative lens in completing both independent research projects and lesson plans developed by educators. The curriculum is published by Mosaic Education Press in partnership with CFG Multimedia. Layout and design is by Marshall Shorts. Both digital and hard copies of the curriculum are available at Mosaic Education Press, and Amazon Kindle. A bundle that includes both the complete album cycle and the guide is available through Lomax's official site.
Dr. Lomax uses music as a catalyst to open a crucial conversation that addresses the most relevant issues surrounding race, class and gender today. He believes that by helping people engage with that past, they can better understand the present and commit to creating a better future for everyone as one Human family.
About Dr. Mark Lomax, II
Critically acclaimed composer, recording artist, drummer, activist and educator Dr. Mark Lomax, II, earned his Bachelor's, Master's and Doctor of Music Arts degrees from The Ohio State University. He's also received numerous accolades for his work as a composer and performer, including the MAC Music Innovator residency with the Cincinnati Symphony in 2019 and the coveted Wexner Center for the Arts Artist Residency Award in 2018. Using music and engaging conversation as a vehicle, Lomax inspires audiences to think critically about realizing the potential of our collective humanity to change the world.
About Dr. Melissa Crum
Dr. Melissa Crum is an artist, author, researcher and founder of Mosaic Education Network, LLC. She leads a consulting company that infuses the arts, research, storytelling and critical thinking into professional development, community building and curriculum development. Dr. Crum works with her team of experts to act as engaging and collaborative resources to schools, nonprofits and companies, helping them gauge the collective impact of our unconscious bias to reach diversity, equity and inclusion (DEI) goals.
About 400: An Afrikan Epic
Released on the 400th anniversary of the beginning of the Transatlantic slave trade, Dr. Mark Lomax, II ambitiously weaves the story of Black America throughout the 12-album cycle. 400 explores thousands of years of Black history, including pre-colonial Afrika, the Ma'afa (the 400 years between 1619 and 2019), and Afro-futurism, an expression of what Blacks in America will heal toward in the next 400 years. In early 2020, Lomax continues this celebration of the resilience, strength, and creativity of the Afrikan people with the release of The 400 Years Suite.
For more information on Dr. Lomax and the 400, go to http://www.marklomaxii.com or follow @marklomaxii on Twitter and Instagram, and @drumversations on Facebook.