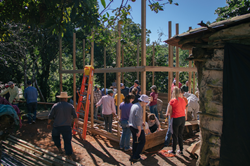 We take groups of extremely talented students, who are greeted with incredible warmth and hospitality by local farmers and families. It's an amazing exchange that impacts everyone who takes part
COLUMBUS, Ohio (PRWEB) March 06, 2019
Columbus, Ohio coffee roaster Crimson Cup Coffee & Tea recently sponsored a service learning trip to Honduras for Ohio State University students. Seven students took part in the trip to the remote region of Siguatepeque, Honduras, where small-plot coffee farmers produce coffee served on the university campus.
Led by Crimson Cup Coffee Buyer Dave Eldridge and Zia Ahmed, senior director of OSU's Student Life Dining Services, the students built a home for a Honduran coffee worker, distributed water filter buckets to farm workers, learned about coffee cultivation and explored issues facing small coffee farmers and their communities.
Eldridge and Ahmed have been leading service learning trips to the region for several years. The trips helped to inspire Ohio State's Connecting Grounds cafe, which serves a variety of brews and blends made from directly traded coffee.
"These trips allow students to learn about the coffee production cycle and the hard work that goes into growing coffee," Eldridge said. "During the service portion of the trip, they also work on life-enriching projects for coffee workers and their families."
Crimson Cup organizes some service aspects of the trips through nonprofit Serve Hope International, which works to provide housing, education and clean drinking water to Honduran coffee workers and their families.
"We take groups of extremely talented students, who are greeted with incredible warmth and hospitality by local farmers and families," he added. "It's an amazing exchange that impacts everyone who takes part."
On their first day in Honduras, the students worked with local volunteers to begin building a small home for injured coffee farmer Jesús Lazo Lorenzo and his family. They used about $3,000 in materials provided by Crimson Cup and Columbus coffee drinkers, who donated to the Ten Cents of Change fundraising drive.
The next day, the students worked on a clean water project. Using materials provided by Crimson Cup, they put water filters into buckets. They then showed local residents how to use the buckets to turn rainwater into clean drinking water. The students and villagers also learned about one another through a question-and-answer session.
"Access to clean drinking water is a serious health issue in the area," Eldridge said. "Most houses lack running water, so families often get their water from polluted rivers and streams."
On day three, the group participated in a question-and-answer session with four local coffee farmers. The goal was to view the coffee system in Honduras from the farmers' perspective.
"As the students saw, in many cases farmers do not have full insight into costs incurred after they grow and pick their coffee," Eldridge said. "Part of our conversation was about how to quantify costs of transporting, milling and exporting coffee."
The group also talked about the importance of coffee quality and chain of custody in determining market price. "There is more demand among U.S. roasters and coffee drinkers for high-quality coffee that is traceable to a single farm," Eldridge said.
Without resources to process or quality test their coffee, many farmers sell to a coffee processing mill. Their coffee is mixed with coffee from other farms for export.
After the Q&A session, the students toured a coffee farm and competed in a coffee-picking contest. "They strapped on bags, went into the trees and picked coffee for an hour," Eldridge said. "They were then evaluated using the same methods used to pay local workers."
The winning student won a machete. A local worker would have been paid about 80 cents for the quantity of coffee she picked.
During tours to wet and dry mills operated by The Cooperativa Cafetalera Siguatepeque Limitada (COHORSIL), the group reviewed a schedule of fees charged to growers for processing, transporting and exporting coffee. "This information can help farmers get a better handle on costs," Eldridge said.
The students also experienced cultural aspects of Honduras. They explored a weekly open-air market and talked to entrepreneurs who are building businesses outside the coffee trade.
"One night, we went to see dancers in traditional costumes and ate foods that go along with the dance," Eldridge said. "They encouraged us to dance with them, which the students loved!"
The final day of the trip, the group returned to work on the home for Lazo and his family.
"They returned to Columbus with a new appreciation of all of the hard work that goes into their morning cup as well as a better understanding of developing economies," Eldridge said.
As a result of conversations on the trip, Crimson Cup is working with Serve Hope International, COHORSIL and successful coffee farmers to develop a coffee education series. "We hope to give smaller coffee farmers tools to improve profitability and coffee quality while establishing connections to help them learn from and support one another," Eldridge said.
Crimson Cup has been working with Siguatepeque farmers since 2011. The roaster imports coffee from the region through its Friend2Farmer direct trade program, which ensures that farmers receive a fair share of the proceeds from coffee sales. The company also donates funds for education and community improvements.
About Crimson Cup Coffee & Tea
Columbus, Ohio coffee roaster Crimson Cup Coffee & Tea is Roast magazine's 2016 Macro Roaster of the Year. Since 1991, Crimson Cup has roasted sustainably sourced craft coffee in small batches, sold directly to consumers and as wholesale coffee beans. Through its 7 Steps to Success coffee franchise alternative program, the company also teaches entrepreneurs to run successful coffee houses. By developing a coffee shop business plan, prospective entrepreneurs gain insight into how much it costs to open a coffee shop. Crimson Cup coffee is available through more than 350 independent coffee houses, grocers, college and universities, restaurants and food service operations across 37 states, Guam and Bangladesh, as well as the company's own Crimson Cup Coffee Houses. To learn more, visit crimsoncup.com.