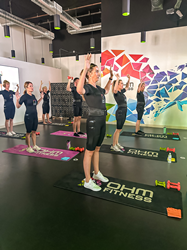 "I could feel the suit working my muscles in a way I've never experienced. The 25-minute, low-impact workout felt easy, yet the results blew my mind. I was sore the next day and felt like I had lifted weights for hours. The suits did all of the work." - Kathy Franklin
SCOTTSDALE, Ariz. (PRWEB) February 07, 2023
OHM Fitness awards three new territories and seven additional franchise licenses in developing territories in the first month of 2023. The rapidly growing fitness franchise opened its flagship studio last summer and is already set to open EMS fitness studios in eight states.
In January 2023, the following territories were awarded to experienced, multi-unit area representatives:
Colorado
Kathy Franklin secured the area representative rights to the state of Colorado, including 25 franchise licenses. The experienced entrepreneur recently sold her European Wax Center portfolio and was searching for a new opportunity when she was introduced to OHM Fitness. She plans to open at least three locations with her sons learning the business alongside her. She is already searching for ideal retail locations in the greater Denver area.
"I was initially skeptical, so I invited my three sons to join me to get their insights. The class was so unexpected and so much fun. We felt inspired by the trainers and the energy from the moment we walked in the door," said Franklin. "As the class progressed, I could feel the suit working all of my muscles in a way I've never experienced. The 25-minute, low-impact workout felt easy, and yet the results blew our minds. We were sore the next day and felt like we had lifted weights for hours. The suits did all of the work."
Kansas & Missouri
Beth and Steve Brown were awarded the area representative rights to both Kansas, including eight franchise licenses, and Missouri with 14 franchise licenses. The married couple will open three OHM Fitness studios themselves and plan to have their first location open by July 2023. Steve is a 10-year seasoned franchisee, having owned multiple thriving European Wax Centers in Kansas and Missouri. The pair was attracted to the franchise because of the experienced founding team and once they experienced the workout, they saw a big opportunity with only 25-minute classes that provide the results of a two- or three-hour workout.
Also in January 2023, John and Janet Mok secured three franchise licenses to expand the OHM Fitness brand into Bergen and Passaic Counties, N.J. The married couple is searching for three ideal retail locations in hopes of opening their first location this summer. They previously owned three European Wax Centers for 10 years, and two Amazing Lash Studios for four years. John ran all day-to-day operations and Janet, a former HBO marketing executive, was involved in the marketing efforts.
In South Florida, Dean Kapneck was awarded four franchise licenses with plans to target opening locations around Fort Lauderdale, Boca Raton and Delray Beach. Kapneck hopes to open his first location in the next six months. He also comes with a successful track record in franchising, having owned and operated 11 European Wax Centers in New Jersey and Maryland. He recently moved to Boca Raton after selling his locations and sees a big opportunity with OHM Fitness.
OHM Fitness offers a high-tech, high-energy EMS fitness experience that packs the benefits of an intense 2.5-hour workout into one low-impact, 25-minute session, producing impressive results with a desirably low rate of wear and tear on the body. Territories in development now include Arizona, Colorado, Kansas, Missouri, San Diego, South Florida, New Jersey, and Washington D.C. totaling more than 150 future studios.
"At OHM Fitness, we help you beat your brain at its own game," said Co-Founder & CEO Doug Payne. "Your brain sends electrical signals to your muscles to make them move. But muscles can only contract about once per second or repetition. OHM Fitness lets you use science and technology to actively game the system."
This low-impact workout has been connected to researched-based benefits such as fat loss, skin health, energy, stress and anxiety levels, muscle strength, and acute and chronic pain.
OHM Fitness is a special first-to-market franchise opportunity for entrepreneurs and experienced franchise industry professionals who are eager to capture their share in the $96 billion dollar fitness industry. The initial franchise fee is $39,000 and the total estimated initial investment ranges from $337,500 to $612,700. For more information about franchise opportunities available in your area, please visit http://www.OHMfitness.com or email Franchising@OHMfitness.com.
About OHM Fitness
OHM Fitness is one of the first franchises to deliver small group workouts using highly-effective electrical muscle stimulation (EMS) through the use of wearable technology through its EMPower Suit. This high-tech fitness experience packs the benefits of an intense two-hour workout into a low-impact, 25-minute session with a low rate of wear and tear on the joints, ligaments, and muscles, in comparison to other HiiT workouts. Founded in Scottsdale, Ariz., OHM Fitness currently offers area developer and franchisee opportunities to qualifying entrepreneurs. For more information, please visit http://www.OHMfitness.com or email franchising@OHMFitness.com.