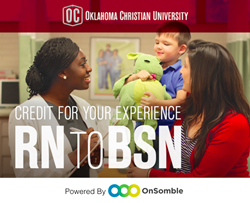 Partnering with OnSomble and Examity® allows us to achieve the highest levels of reliability and integrity for our RN to BSN competency-based examinations. - Dr. Jennifer Gray, RN, PhD, FAAN, Associate Dean and Chair of the Department of Nursing.
NASHVILLE, Tenn. and OKLAHOMA CITY (PRWEB) May 15, 2019
Oklahoma Christian University and OnSomble Inc., who recently partnered to deliver an innovative RN to BSN competency-based degree program within OnSomble's OnRole™ Adaptive Learning Platform, today announced an integration with Examity®, the world's leading solution for learning validation.
"At Oklahoma Christian University, we take seriously our responsibility to uphold exam and institutional integrity," states Dr. Jennifer Gray, RN, PhD, FAAN, Associate Dean and Chair of the Department of Nursing. "This duty is more easily fulfilled in traditional classroom settings, but it requires innovative technical solutions in online programs. Partnering with Examity® and OnSomble allows us to achieve the highest levels of reliability and integrity for our RN to BSN competency-based examinations."
Examity® entered the online proctoring market in 2013 and developed a variety of proctoring styles to meet client needs, from automated to live solutions. The Examity® team includes more than 500 proctors across four time zones to provide students with 24x7 support. OnRole's adaptive algorithms allow the competency-based curriculum to be customized to each student's individual needs, prescribing areas for improvement through deeper study, thus allowing the student to complete a degree more quickly, saving both time and money.
"The integration of Examity's proctoring services within the OnRole™ platform is an important step in the continued expansion of our solutions," explains Enderson Miranda, CEO of OnSomble. "This integration ensures that our users have a seamless experience as they can complete all their exams within our platform. We are excited about the valuable role this integration will fill for Oklahoma Christian University and its unique competency-based RN to BSN program."
About Examity®
Examity® was founded to meet the needs of the growing number of online education and certification programs looking to ensure integrity. Since its founding six years ago, Examity® has partnered with 500+ institutions and certification programs worldwide to provide a cost-effective and flexible online proctoring and learning validation solution. For more information, visit Examity.com.
About Oklahoma Christian
Oklahoma Christian (OC) is located 10 minutes from downtown Oklahoma City. OC students have many ways to plug into other countries and cultures. OC's global reach includes 20 study abroad and off-campus learning options, plus service opportunities that take students around the world to help people in need. One such program is the CBE program for RN to BSN. CBE allows students to move forward in their coursework by demonstrating concrete abilities, proving that they have mastered the knowledge and skills required for a course. The model is student-centered and can recognize prior education that may have been gained outside of formal instruction, regardless of where, when, and how that learning took place. Instead of assigning letter grades based on performance, CBE shifts traditional academia to emphasize frequent, meaningful feedback that empowers people to take more responsibility for learning.
About OnSomble, Inc.
OnSomble provides hospitals and healthcare organizations with customizable adaptive learning platforms for professional development, continued education, and individualized learning. OnSomble's solutions empower organizations to efficiently allocate evidence-based content and education resources, utilize key metrics and data analytics to pinpoint opportunities for development, identify internal leaders to empower their growth from within, measure key demographic and certification data, create individual self-development dashboards that support employee engagement, and reduce variation in practice to optimize patient outcomes. For more information about OnSomble, visit http://www.onsomble.com.