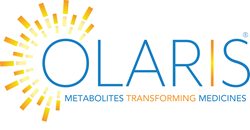 "We are thrilled to partner with Thermo Fisher Scientific." said Elizabeth O'Day, CEO and Founder of Olaris. "Their expertise and global reach will enable us to accelerate our mission to bring precision diagnostics forward that transform patient care."
FRAMINGHAM, Mass. (PRWEB) January 18, 2022
Olaris, Inc., a precision medicine company leveraging metabolomics and machine learning for the discovery and development of Biomarkers of Response (BoRs) to optimize treatments and patient outcomes, today announced that it has partnered with Thermo Fisher Scientific to evaluate a diagnostic to assess the risk of developing complications from overimmunosuppression in kidney transplant recipients based on a metabolomics signature discovered via Olaris' platform.
In a study that will be presented later this year, Olaris leveraged the phenotypic capabilities of metabolic profiling with machine learning modeling to identify patients at risk for developing polyomavirus-associated nephropathy (PVAN), a complication of overimmunosuppression. Complications due to overimmunosuppression continue to be a problem in post-transplant care and account for the second leading cause of death in patients with a functioning graft within the first year.1 Currently, immunosuppressive treatment is required to prevent graft rejection. While the risk of rejection has drastically fallen due to advances in immunosuppressive therapy over the past five decades, current diagnostics fail to assess the risk of complications from overimmunosuppression. Olaris and Thermo Fisher are committed to improve patient care with a prognostic tool that can address this need and improve patient's lives post-transplant.
"We are thrilled to partner with Thermo Fisher Scientific." said Elizabeth O'Day, CEO and Founder of Olaris. "Their expertise and global reach will enable us to accelerate our mission to bring precision diagnostics forward that transform patient care."
About Olaris
Olaris is working to fundamentally change how diseases are treated by leveraging our proprietary metabolomics and machine learning platform to identify Biomarker of Response (BoR) signatures. Olaris develops BoR in vitro diagnostics (IVDs) to empower patients, providers, and biopharma to pursue the most effective treatment. To learn more, visit http://www.olarisbor.com.
1. Awan, A. A. et al. Trends in the Causes of Death among Kidney Transplant Recipients in the United States (1996–2014). AJN 48, 472–481 (2018).