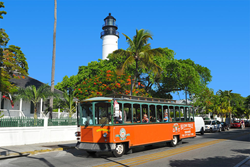 KEY WEST, FL (PRWEB) March 24, 2017
One of the most exciting new features, easy to use, interactive maps for each of the cities that Old Town Trolley serves, offers detailed information about each of the stops on the tour, which assists guests with planning out their entire vacation. Guests who are traveling to the cities of Boston, San Diego, Washington DC, Savannah, St. Augustine and Key West, Florida and Nashville, Tennessee can easily and quickly search and get information about each stop the trolley makes in each city, including unique attractions, activities, events and points of interest, parking and more.
The site also offers a schedule of tours in each city, informative articles about things to do, as well as the ability to seamlessly book tour tickets online and sign up for special offers and deals. The Old Town Trolley Tour Team invites those planning a vacation to any of their seven cities, to visit their new website and explore all the new features.
About Old Town Trolley Tours
Founded more than 30 years ago by Ed Swift, Chris Belland, Moe Mosher and Mike Cates, Old Town Trolley Tours offers sightseeing tours in seven cities and boasts over 130 trolleys. Guests are able to hop on and off and explore the more than 100 historic sights and attractions in each city at their leisure. Each Old Town Trolley Tour is fully narrated by a local historian, who shares fun facts, colorful anecdotes and history about the city.