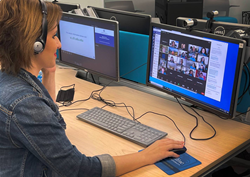 NORFOLK, Va. (PRWEB) May 21, 2021
In a year marked by a huge online shift in education, Old Dominion University's Center for Learning and Teaching hosted their widely-attended annual conference this year. This year's conference, themed Transforming the Online Student Learning Experience, was virtually attended by more than 200 people from across the country. Collaborators from major universities joined to share and discuss their experiences as distance educators, as well as successes and development given the 2020-2021 switch to a full time online learning environment.
This year, conference attendees discussed:

Plan, organize, develop, and deliver an effective online/hybrid course
Design effective and engaging assignments and assessments
Foster faculty presence, availability, and responsiveness
Encourage faculty to embrace online course design as a strategy to rethink their teaching practices
"The collaboration at this year's conference was just outstanding," said Chrysoula Malogianni, Associate Director for ODU's Center for Learning and Teaching. "We were joined by higher education professionals from all over the country, who shared and discussed their experiences and findings in online teaching and learning at their respective colleges and universities. I'm sure everyone who attended walked away with some good ideas, new connections, or plans to transform the online student experience at their practice."
Attendees, speakers, presenters and guests were in great hands. "Our Center for Learning and Teaching is such an asset to ODU's distance learning team," said Andy Casiello, Associate Vice President for Distance Learning. "Their wealth of knowledge in course design, student experience, and technology in education makes us a leader in online learning, and we're so proud of this opportunity to collaborate with our partners and friends in education."
To learn more about the 2021 faculty summer conference as well as the mission and services of the Old Dominion University Center for Learning and Teaching, visit https://clt.odu.edu/.
About Old Dominion University
Old Dominion University, located in the coastal city of Norfolk, is Virginia's entrepreneurial-minded doctoral research university and has been delivering distance learning programs for 30 years. We offer more than 100 programs through ODUOnline in a variety of formats, allowing students to complete degree programs across the world. ODU serves more than 24,000 students annually by providing the same rigorous academics online and on-campus. Learn more about ODUOnline's programs by visiting online.odu.edu.