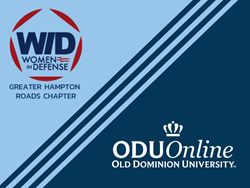 NORFOLK, Va. (PRWEB) May 27, 2021
ODUOnline, Old Dominion University's Office of Distance Learning, was proud to partner with Women in Defense Greater Hampton Roads (WIDGHR) to deliver several virtual events focused on professional development.
The first event was WIDGHR's Industry Day. This annual event is designed to help companies and businesses connect with women within the defense industry for developmental opportunities, networking, encouragement and professional development.
Traditionally an in-person event, challenges presented by the COVID-19 pandemic forced Industry Day to be conducted online to maintain social distancing guidelines. Despite this shift in environment, Industry Day was a huge success.
"I was impressed with how smoothly the event went," said Jimettra Lundy, Vice President of Women in Defense Greater Hampton Roads. "[ODU] was a godsend, and the team was wonderful to work with. Everything went smoothly and we received so many compliments. We will definitely partner with ODU for events to come."
The next event, the WIDGHR Professional Development Day took place on May 14th, featured speakers and workshops to assist local women in defense to connect, find resources, and build critical skills in their industries. Speakers for the WIDGHR Professional Development Day included Congresswoman Elaine Luria and Christie Thomas, Vice President of Contracts and Pricing at Huntington Ingalls Industries - Newport News Ship Building.
You can learn more about WIDGHR by visiting their website: https://www.widghr.org/
About Old Dominion University
Old Dominion University, located in the coastal city of Norfolk, is Virginia's entrepreneurial-minded doctoral research university and has been delivering distance learning programs for 30 years. We offer more than 100 programs through ODUOnline in a variety of formats, allowing students to complete degree programs across the world. ODU serves more than 24,000 students annually by providing the same rigorous academics online and on-campus. Learn more about ODUOnline's programs by visiting https://online.odu.edu.