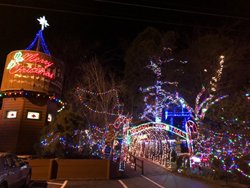 KNOXVILLE, Tenn. (PRWEB) December 01, 2018
Attractions across the Tennessee River Valley are gearing for the magic of Christmas with a variety of activities appealing to adults and children.
While the hustle and bustle of today's busy world is increasingly overshadowing the true meaning of the holiday spirit, there are events that focus on celebrating Christmas the way it used to be celebrated, where celebrations were simple and centered on friends, family and loved ones. The Tennessee River Valley has developed a list of events featuring old-fashioned Christmas fun to help ring in the holiday spirit.
Holiday Homecoming at Norris Dam State Park, Lake City, Tenn.
Set for Dec. 8, Norris Dam State Park hosts a holiday celebration where its rustic cabins are transformed into a winter village of festivities for the holiday season. The evening event offers old-time music entertainment, live animal demonstrations, historical depiction of Appalachian life, theatrical holiday skits, storytelling, holiday treats and visits with St. Nick. The Tea Room will be filled with trees, lights and old-time caroling. A hot meal will be available to purchase for those arriving hungry. Festivities will take place from 5:00 to 9:00 p.m. Be expected to walk approximately one mile, so dress warmly and bring a flashlight. In lieu of an entrance fee donations will be accepted.
Located on the shores of Norris Lake, Norris Dam State Park offers plenty of recreation on both land and water on its more than 4,000 acres. Activities include hiking, wildlife viewing, attending interpretive programs, and visiting the Lenoir Museum, Rice Gristmill and Crosby Threshing Barn. The park has 19 rustic cabins and 10 deluxe cabins. All are located in quiet, wooded settings and are completely equipped with electrical appliances, cooking utensils and linens. The park also has two campgrounds, one located on each side of the park.
A Candlelight Christmas, Clinton, Tenn.
Experience the serenity of an Appalachian Christmas during A Candlelight Christmas at the Museum of Appalachia located in Clinton, Tenn. Nov. 30 through Dec. 2. The centerpiece of this holiday event is an evening tour of the Museum's pioneer village. Old-fashioned Christmas decorations will adorn the interiors of the Museum's authentic log cabins, which will be festively lit for the occasion.
Additional activities at A Candlelight Christmas include Christmas storytelling, sipping on hot apple cider, singing carols in the Irwin Chapel, visiting with Museum animals and making Appalachian ornaments. There will be a live Nativity scene, musicians performing throughout the grounds, as well as spinning and weaving demonstrations, candle-dipping, cooking demonstrations, blacksmithing, sassafras tea-making and lots of holiday craft activities for kids. Festival goers are encouraged to bring a flashlight. Hours are 5 to 9 p.m. Nov. 30, and 4 to 9 p.m. Dec. 1-2. (Admission charged.)
Grand Rivers Festival of Lights, Grand Rivers, Ky.
From now until the end of January, visitors to Grand Rivers are treated to a holiday spectacle like no other. A peninsula bounded on the east by Lake Barkley, the west bounded by Kentucky Lake, and the south bounded by the canal that connects the two lakes, Grand Rivers is a quaint little town that is big on celebrating the holiday season. The celebration includes over 700,000 lights and displays in the downtown area and at Patti's Settlement, a recreated historical log cabin village. Additional activities to enjoy include musical Christmas productions at the Badgett Playhouse, shopping for one-of-a-kind gifts at unique shops, dining at Patti's Restaurant and taking in the festive, illuminated boats at Lighthouse Landing Resort and Marina. Plenty of cozy lodging beside Kentucky Lake and Lake Barkley is also available for those who want to plan an overnight getaway.
It's a Dickens Christmas, Y'all, Tuscumbia, Ala.
Scrooge, Marley and all the familiar faces from Charles Dickens' beloved holiday classic, A Christmas Carol, will be in Tuscumbia the second Saturday in December to join merchants and townspeople in presenting the signature Christmas festival, It's a Dickens Christmas, Y'all. Set for Dec. 8 from 10 a.m. to 5 p.m., the annual event adds a festive touch to the season and brings a hint of "Merry Ole England" to this historic Alabama town. Admission is free.
Expect to find snow falling on Main Street and strolling costumed characters and to visit with Santa Claus and his English counterpart, "Father Christmas." The Clydesdale horses, Clyde and Pride, will give carriage rides. An outdoor holiday market will be filled with arts and crafts and food vendors, while the shops of Tuscumbia will offer their own holiday specials. Performances throughout the day will be presented by brass ensembles, a bag piper, vocalists and choral and dance groups. Additional activities include trolley tours through the historic district, cookie decorating, a free showing of MGM's 1938 classic movie version of "A Christmas Carol" at Helen Keller Library and more.
Ruby Falls Christmas Underground, Lookout Mountain, Tenn.
For those who have visited Ruby Falls, the nation's tallest and deepest underground waterfall open to the public in the United States, plan a visit in December for a magical holiday experience. On the Ruby Falls Christmas Underground tours, guests are treated to a secret passage to the North Pole where Santa's Joystone miners are preparing for the holiday season. Along the way, discover a glittering ice cave, see Sugar Plum Fairy Village and find your own sparkling joystone on this heartwarming adventure. The specialty tour is available noon to 8 p.m. Thursdays through Sundays Dec. 1-9 and daily Dec. 13-23. Please note that Christmas Underground is a separately ticketed event and does not include access to the Ruby Falls waterfall. To include a visit to the waterfall, guests should purchase a discounted Ruby Falls tour and Christmas Underground combo ticket. Christmas Underground tickets sell-out quickly and advance purchase is recommended.
Beginning in the southwest corner of Virginia, the Tennessee River Valley region cuts through the mountainous areas of Tennessee, North Carolina, and Northern Georgia, into the rolling hills and bottomlands of northern Alabama and Mississippi and then north through the marshes and wetlands of middle-west Tennessee and ending in western Kentucky. The Tennessee River Valley offers a compelling story, captivating visitors with its little unknown facts, pristine, untouched areas and rich, authentic experiences. Save trip ideas and plan a trip easily with the Tennessee River Valley Geotourism MapGuide, an online guide of authentic places and adventures that have been recommended by locals.