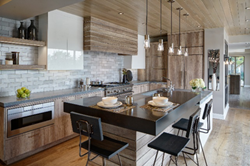 Modern farmhouse is a new take on an old style. It's a revival of a simple farmhouse style from the mid-century. Gail Drury, CMKBD, Drury Design President, and Creative Director.
GLEN ELLYN, Ill. (PRWEB) August 21, 2018
Drury Design, in partnership with Grabill Cabinets, reveals their latest showroom renovation: a modern farmhouse kitchen with contemporary aesthetics. According to the 2018 Houzz annual renovation trends study, 51% of homeowners surveyed plan to begin or continue renovations this year. Modernizing older traditional design styles with high-tech, time-saving features are the top motivators for Drury Design's home remodeling clients. To experience the Modern Farmhouse Kitchen, stop by the Drury Design studio at 512 N. Main Street in Glen Ellyn or visit https://www.drurydesigns.com/portfolio/modern-farmhouse-kitchen-glen-ellyn/.
Country Charm to Modern Aesthetics
When it came time to modernize the original farmhouse kitchen display, Drury and Grabill teamed up on a project to reframe the classic farmhouse kitchen design with modern twists and contemporary finishes, including new time-saving appliances from Wolf, Subzero, Miele, Dacor, and Sharp.
Before:
Drury Design and Grabill Cabinets first collaborated on a classic country kitchen in 2002. With warm honey wood tones in the cabinets and on the ceiling, black and red accents added color, while a free-standing pie safe brought in character.
After:
Out went the pie safe, the honey, black and red hickory cabinets, and the built-in table and chairs. In went white high gloss and rustic wood hands-free cabinets. A new island with shiplap siding and chrome accents, concrete-like Caesarstone counter tops, a Blanco Silgranit farmhouse sink, tech lighting LED pendants, and dine-in seating, is ready for in-studio cooking demos. Including a bit of a surprise element, a striking backlit cookware display hutch reflects a dramatic touch.
What defines a modern farmhouse kitchen?
"Modern farmhouse is a new take on an old style. It's a revival of a simple farmhouse style from the mid-century," observes Gail Drury, CMKBD, Drury Design President, and Creative Director.
"Some of the characteristics of the original farmhouse style are simple slab doors with possible accents of shiplap siding, some natural stained woods or painted doors. Modern farmhouse takes these elements a couple of steps further. In our design, painted slab doors are replaced with a high gloss, white foil door that is very durable - unlike the original paint. Shiplap siding is mimicked in the hood and island details with contemporary metal accent pieces added. Contemporary hardware and other design elements add to the 'modern' feel. And, the color scheme is simple and understated. It's all about muted colors blended, as opposed to high contrast colors. The new twist is the greys added to the contemporary color palette," Gail says.
Martin Heiny, President of Grabill Cabinets believes the Drury Design team is the industry leader in trends and modern design.
Logan Yoder, Grabill Cabinets - Product Development says, ""Modern Farmhouse design incorporates the warmth of natural wood tones, which is a welcomed change from the cool tones of the greys that have been popular for so long. There is beauty in taking something old, such as a country farmhouse and reinventing it in a fresh, new way. The comforting atmosphere of Grandma's house is transformed into a modern rendition with all of the comforts of today's technology. Drury capitalized on natural, rustic tones while pairing it with luminous high gloss, stunning metal accents. Drury added a level of sophistication to their design with luxe elements such as the amazing shiplap range hood, which incorporates a mirror accent."
"This is a real practical kitchen that works effortlessly. Everything is where you need it, when you need it." observes senior designer Janice Teague, CKD/CBD. "You'll notice a lot of drawer accessories that are easy to clean. Even if a person is not organized, this kitchen is organized for you."
Senior designer Alicia Saso, AKBD says the motion controlled, hands-free Servo drive cabinetry is one highlight of many integrated conveniences. "All of the features in this kitchen are meant to make the homeowner's prep, cooking, serving and clean up as simple and enjoyable as possible. Modern-day accessories are key components to a fully functional kitchen," Alicia says.
What's different about this kitchen compared to a kitchen with no organization? Senior designer Linda Larisch, CMKBD says, "Kitchens store lots of stuff. Digging through a pile of pots and pans to find the perfect one takes time. In the modern farmhouse display, there's a logical place for everything. For example, the pull-out pots and pans rack keeps cookware ready, on display and in better condition. This kitchen features lots of built-in organizers to save time and make cooking more enjoyable for everyone."
Seating at an island is very high on most of Drury Design's client wish lists, notes senior designer Diana Burton, "At the island, the Grothouse wood countertop is a glossy, contemporary contrast to the rustic quartz concrete texture. The raised area for seating creates a cozy spot for guests to pull up a chair, without being underfoot while the cook is at work."
Jason Wickline, senior designer, notices the modern farmhouse mixture of textures, colors, and design styles becoming more popular, "Our clients want something different than the 'all white kitchen' or 'white perimeter cabinets with a stained island.' We're also finding our clients want more modern technology and accessories. I think the Modern Farmhouse Kitchen display is a great demonstration of where interior design trends are heading."
About Drury Design . . .
Drury Design began delivering home design-build services to the greater Chicago area in 1987. With Gail Drury at the helm, the company's completed over 2,000 Chicago area home remodeling projects and won more than 70 design industry awards, including Trend Magazine's Top 50 American Kitchens, KBDN's Top 50 Innovators, Best of Houzz, American Society of Interior Design (ASID) and National Kitchen and Bath Association (NKBA). To interview Gail Drury, CMKBD, about home design trends or to request permission to use an image, contact Jim Drury at
630.469.4980. View Drury Design's kitchen and bath design portfolio at https://www.drurydesigns.com/portfolio/