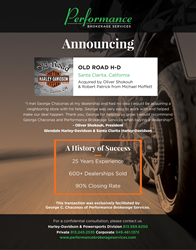 In its 35 years, the Love Ride raised more than $25,000,000, before its amazing run came to an end in 2015.
IRVINE, Calif. (PRWEB) October 02, 2018
Performance Brokerage Services, a new car and Harley-Davidson dealership broker is pleased to announce the sale of Old Road Harley-Davidson in Santa Clarita, California from Michael Moffett to Oliver Shokouh and co-owner, Robert Patrick.
Oliver Shokouh founded the locally owned and family operated Glendale Harley-Davidson dealership in 1976. He has always been a Harley-Davidson enthusiast stating that the camaraderie within the Harley-Davidson community could "enrich one's life". Staying true to this belief, Shokouh founded the annual Love Ride in 1981, an annual one-day motorcycle fundraiser to support local and national causes. In its 35 years, the Love Ride raised more than $25,000,000, before its amazing run came to an end in 2015. Shokouh shared that he is considering implementing the Love Ride once again.
Robert Patrick, an actor best known for his role as T-1000 in the blockbuster film, Terminator 2, and now a star in the TV series "Scorpion", purchased his first motorcycle from Shokouh. It was always a dream of Patrick's to one day own a Harley-Davidson dealership. When Shokouh heard of the opportunity to purchase Old Road Harley-Davidson through George Chaconas of Performance Brokerage Services, Shokouh thought of his friend Patrick. The two closed on their purchase of Old Road Harley-Davidson in August 2018. Following the purchase, Oliver Shokouh commented, "I met George Chaconas at my dealership and had no idea I would be acquiring a neighboring store with his help. George was very easy to work with and helped make our deal happen. Thank you, George for helping us grow."
They have already implemented upgrades including a new concept look for the front desk reception area, a large motor clothing and gear section, and a "Terminator 2 arcade". Santa Clarita Harley-Davidson may offer the Pan America in 2020, Harley-Davidson's first adventure touring motorcycle and it was also selected as one of 150 dealerships to offer the first electric Harley-Davidson motorcycle named LiveWire in 2019. With this in mind, Shokouh plans to install a charging station in the dealership's parking lot.
The dealership is operating under its new name Santa Clarita Harley-Davidson and in the same location at 21130 Centre Point Parkway in Santa Clarita, California 91350. Shokouh and Patrick are planning for a Grand Opening in early 2019.
George C. Chaconas, the exclusive agent for this transaction and the head of the National Harley-Davidson and Powersports Division for Performance Brokerage Services commented, "It brings me great pleasure to welcome Robert Patrick to the family of Harley-Davidson dealership owners and to have helped Oliver secure the perfect strategic acquisition near his Glendale Harley-Davidson dealership."
About Performance Brokerage Services
Performance Brokerage Services, an auto dealership broker, specializes in professional intermediary services to buyers and sellers of automotive, Harley-Davidson and Powersports dealerships.
The company offers a different approach to the automotive, Harley-Davidson and Powersports industries by providing complimentary dealership assessments, no upfront fees, no reimbursement of costs and is paid a success fee only. Performance Brokerage Services gets paid only after the client gets paid.
With over 25 years of experience, the company utilizes an extensive network of industry related accountants, attorneys, hundreds of registered buyers and enjoys longstanding relationships with most of the auto manufacturers and the Harley-Davidson Motor Company. The intermediaries at Performance Brokerage Services have been involved in well over 600 transactions. Pledging loyal and unwavering representation, confidentiality is vigilantly protected during the selling process and after the transaction closes.
With corporate offices in Irvine, California, six regional offices in Utah, Florida, Texas, New Jersey, Alberta and Ontario, and a dedicated Harley-Davidson and Powersports Division, Performance Brokerage Services provides its clients national exposure with local representation. For more information about the services offered by Performance Brokerage Services, visit https://performancebrokerageservices.com.