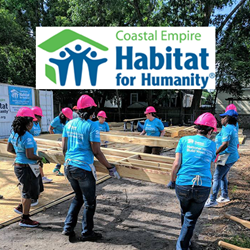 By helping local families settle down in a home they can call their own, our ultimate goal is to eradicate the cycles of poverty that keep children from completing their educations
SAVANNAH, Ga. (PRWEB) August 11, 2018
The owner and CEO of Georgia-based insurance agency Old Savannah, James Grusheski, is releasing details on a charity drive he and his team have launched to help reduce poverty in the area and provide affordable homes to low income families. Statistics show that the children of homeowners are 25% more likely to graduate high school and 116% more likely to receive a 4 year degree or better from college.
"By helping local families settle down in a home they can call their own, our ultimate goal is to eradicate the cycles of poverty that keep children from completing their educations," said Grusheski.
Thanks to the use of a referral and rewards system, the Old Savannah team has drawn in plenty of help from the local community. Grusheski has pledged to make a $10 donation toward the low income home program in the name of any person who refers a friend or loved one into Old Savannah for a no cost insurance consultation.
Interested readers are encouraged to find out more about how to help support the charity drive by visiting this page and taking action: http://oldsavannahinsuranceagency.com/rewards/.
About Old Savannah Insurance Agency
The mission of the Old Savannah Insurance team is to provide the best insurance and financial services in the industry. Their number one job is to protect the assets for which their customers have worked so hard, and to help them invest so they may retire in comfort. Old Savannah's success is measured by customer satisfaction and the added value brought to their lives. To speak to a helpful and knowledgeable representative from Old Savannah Insurance Agency, please visit http://www.oldsavannahinsuranceagency.com/ or call 912-352-7620.