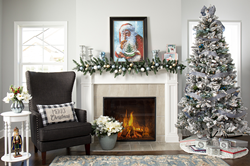 With new décor items arriving daily, it's the most fun time of the year to visit us. You will leave with a smile on your face and everything you need for the picture-perfect holiday with friends and family." - Jason Schmitt, Chief Executive Officer at Old Time Pottery
MURFREESBORO, Tenn. (PRWEB) October 26, 2020
Old Time Pottery, the tree-mendous holiday superstore, is celebrating the most wonderful time of the year with its largest assortment of holiday items ever. Shoppers will save time & money this Christmas season by getting everything you need at your one-stop-holiday-shop.
"Christmas is our favorite time of year at Old Time Pottery. Our team is filled with holiday cheer and is thrilled to introduce customers to the endless possibilities in shopping for your holiday home," said Jason Schmitt, Chief Executive Officer at Old Time Pottery. "With new décor items arriving daily, it's the most fun time of the year to visit us. You will leave with a smile on your face and everything you need for the picture-perfect holiday with friends and family."
50,000 CHRISTMAS TREES – Every holiday space begins with the perfect Christmas tree. With our largest assortment of Christmas trees ever, Old Time Pottery has over 60 different types of trees and 50,000 trees in stock today. Whether you need a big tree, a little tree, a pre-lit tree or a flocked tree, we have a tree for every home and budget.
2,000,000 ORNAMENTS ¬– With over 2,000,000 ornaments in stock, you can decorate with a traditional flair or jazz it up with contemporary pizazz. We have everything you need to create a Christmas tree that reflects your personal style. We have a huge selection of boxed ornaments starting at $5.99. Our stylized collections of signature ornaments include:

Christmas in the Country – Inspired by a classic American farmhouse
Golden Glow – Sparkles and gold shimmering with light
Christmas in The Woods – Rustic featuring winters natural wonderland
Santa's Attic – Fun holiday characters like snowmen, penguins and Santa himself
Candy Cane Lane – All the bright and delicious holiday foods and treats
Snowy Skies – Ice, snow and winter scenes
Sandy Celebration – Ocean and beach holiday magic
Rose Gold – Warm, bright and energetic
Merry Messages – Featuring the sounds and spirit of the season
17,000,000 LIGHTS & 450,000 FEET OF GARLAND – Greet your holiday guests with irresistible outdoor décor. Turn your house and yard into the ultimate Christmas Pageant with our giant variety of lights, inflatables, mailbox covers, flags and other fun items. From the classic nativity scene, to reindeer on your roof, to giant messages of hope and joy, we have everything you need to make your house the most talked about in the neighborhood.
MILLIONS OF OTHER HOLIDAY DÉCOR ITEMS – Make your home merry & bright with our great selection our holiday inspired collections across the entire store, including:

Christmas Accent Pillows and Throws – Transform any bed, chair or sofa with one of our holiday themed pillows starting at $9.99 or throw blankets starting at $5.99.
Christmas Bedding – Build a cozy holiday bed with our themed quilts, comforters and sheets. Get a whole new bed set starting at $24.99.
Kitchen and Table Linens – Create a picture-perfect holiday table with plates, glassware, silverware, linens and more. If you like to bake this holiday season, you need one of our coordinating aprons to complete the experience.
Christmas Art – Deck the halls and every other wall in your house with framed pictures, wall art and novelty pieces.
Candles – Light up the entire house with our massive collection of candles.
Bath Accessories – Don't forget your guest bathroom! Refresh your guest towels and create a holiday bathroom that will make Mrs. Claus jealous.
Elves, gnomes, trucks and more – We have all the holiday knick-knacks that make a holiday house a holiday home.
Old Time Pottery will be featuring Holiday Wishes from its associates and design tips and inspiration from style gurus on its Instagram, Facebook and blog throughout the holiday season. For more information or to find a store near you, visit OldTimePottery.com.
# # # # #
About Old Time Pottery
Since its founding in 1986, Old Time Pottery has focused on providing the broadest assortment of home and seasonal product at a compelling value so that customer can save money while pursuing their passion for home decorating. For more information, please visit http://www.oldtimepottery.com or any of the company's 39 stores in 11 states across the Southeast and Midwest.