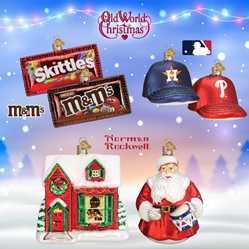 "We are excited to continue to grow our licensed portfolio," said Neal Applefeld, President & CEO, Old World Christmas. "Ornaments help a Christmas tree tell a story and we look to partner with brands who can bolster that story."
SPOKANE, Wash. (PRWEB) January 09, 2023
Old World Christmas®, the premier brand of Christmas ornaments in the country, today announced four new licensing partnerships for the creation of hand blown glass ornaments. Mars Wrigley, MLB, Norman Rockwell, and Morton Salt will each have a line of delicately hand-painted, hand-glittered ornaments created to capture the spirit of the brands to be released later this year.
"We are excited to continue to grow our licensed portfolio," said Neal Applefeld, President & CEO, Old World Christmas. "Ornaments help a Christmas tree tell a story and we look to partner with brands who can bolster that story."
Mars Wrigley will have candy lovers rejoicing as they add their favorite candies, including M&M'S, Starburst, Snickers, Skittles and Twix to their tree.
Batter up! Baseball fans can now have their favorite MLB teams represented on their trees. From the New York Yankees to the LA Dodgers, all 30 MLB teams will be available.
Fans of Norman Rockwell will now have ornaments that feature some of his iconic paintings in collaboration with the Normal Rockwell Family Agency via a license brokered by IMG.
Morton Salt has added flavor to our food - and our memories - for 175 years. This year you'll be able to adorn your tree with the iconic Morton Umbrella Girl.
Once released, all of the newly licensed ornaments will be available at http://www.oldworldchristmas.com or in retail stores across the US. Stay up to date on all Old World Christmas news by following us on Instagram and Facebook.
About Old World Christmas
Founded in 1979, Old World Christmas offers the most extensive and best-loved collection with over 1,400 proprietary designs in styles ranging from traditional to whimsical. The vast selection of heirloom quality and affordable ornaments offers many choices to fit an array of personality or style. For more information, visit http://www.oldworldchristmas.com.