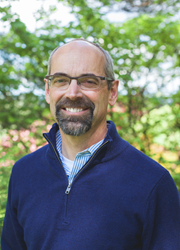 Jay Holtz said, "I'm excited about my new role with the Oldcastle Infrastructure team. I love stormwater policy and regulations since they are what drive our business and because they lead to clean stormwater and healthy waterways!"
ATLANTA (PRWEB) December 05, 2018
Oldcastle Infrastructure, the leading provider of building products for major construction projects nationwide, announced on November 19th the creation of a Regulatory Management group supporting its Stormwater product line. Concurrently, the company also announced the promotion of Jay Holtz, PE to the newly created role of Director of Regulatory Management, leading that team. This critical team and position were created to enhance the regulatory environment for Stormwater treatment and storage products and to support continued growth of this product line for Oldcastle Infrastructure.
Matt Clemson, General Manager, Stormwater said, "The creation of this team demonstrates the importance that advancing the regulatory landscape has on the long-term growth of our industry and on the positive environmental impact of our solutions. Given his unmatched technical expertise and deep industry relationships, Jay is the perfect fit to develop and lead this new function. We are excited that the growth of our Stormwater line has allowed us to invest in our business."
Jay was previously Director of Engineering at Oldcastle Infrastructure. His engineering background is in hydrology and hydraulics. Jay's career spans more than 30 years, having earned his degree in Civil Engineering at the University of California at Davis in 1986. Since that time, he has worked for a number of firms associated with the design and application of stormwater treatment and storage systems. He worked as a contractor with Peter Kiewit Construction, as a designer with CH2M Hill, as a regulator with Clean Water Services in Washington County, Oregon, and as a manufacturer's technical lead with Oldcastle Infrastructure, among others. This breath of perspective and experience gives Jay a unique understanding of each faction's water quality needs and goals. Jay is based in Portland, Oregon and can be contacted at jay.holtz@oldcastle.com.
Jay Holtz said, "I'm excited about my new role with the Oldcastle Infrastructure team. I love stormwater policy and regulations since they are what drive our business and because they lead to clean stormwater and healthy waterways!"
About Oldcastle Infrastructure
Oldcastle Infrastructure, A CRH Company, is the leading provider of building materials, products and services for infrastructure projects to several market sectors nationwide, including: Building Structures, Communications, Energy, Transportation and Water.
For more information, visit http://www.oldcastleinfrastructure.com.
About CRH in North America
CRH is the leading supplier of building materials and products for residential, non-residential and infrastructure construction projects across the United States and Canada. CRH's Americas Materials Division supplies aggregates, asphalt, ready mixed concrete, cement, and paving and construction services. CRH's Americas Products Division supplies a broad range of value-added building products through its three primary businesses: Oldcastle Architectural, Oldcastle Infrastructure and Oldcastle BuildingEnvelope®.
For more information visit http://www.crhamericas.com.