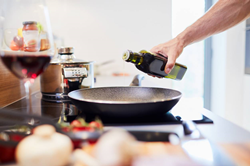 For all of these reasons, Fresh Pressed Olive Club once again earns our highest recommendation among Olive Oil Clubs in 2020.
OVERLAND PARK, Kan. (PRWEB) December 29, 2020
TopConsumerReviews.com once again awarded their highest ranking to Fresh Pressed Olive Oil Club, a popular choice among subscription-based Olive Oil retailers.
Olive oil offers many benefits as part of a healthy diet — and it tastes amazing! However, many shoppers aren't aware that what they buy off their supermarket shelves is rarely fresh, often mixed with less expensive non-olive oils, and probably doesn't have much of a range in flavors. When it comes to high-quality olive oil, the maxim of "you get what you pay for" holds true: the best oils tend to cost more but deliver an extraordinary taste experience. How can true foodies and aspiring kitchen magicians get their hands on the freshest, purest olive oils available today? The most fun way is through an Olive Oil Club membership. These subscription-based companies go to great lengths to source the world's best varieties, often produced in small batches by artisanal growers, and many times deliver the products within a month or less of being pressed.
"With Fresh Pressed Olive Oil Club, you can try a full-sized bottle of premium olive oil for just $1 — starting you on a taste journey you'll definitely want to continue with their quarterly deliveries," affirmed Brian Dolezal of TopConsumerReviews.com, LLC. "As an 'olive oil sommelier', Fresh Pressed owner T.J. Robinson travels the world with his team, to find the best harvests for their loyal customers. Subscribers choose between the small and the large set (three 250-mL bottles or 500 mL bottles) which arrive every three months. With each shipment, customers get a detailed newsletter describing each olive oil's origins, providing recipes and pairings, and offering in-depth knowledge about the olive oil industry. While Fresh Pressed Olive Oil Club backs their olive oils with a 100% satisfaction guarantee, customers rarely need to take advantage of it: the quality of the olive oils in this club is exemplary. For all of these reasons, Fresh Pressed Olive Club once again earns our highest recommendation among Olive Oil Clubs in 2020."
To find out more about Fresh Pressed Olive Oil Club and other Olive Oil membership plans, including reviews and comparison rankings, please visit the Olive Oil Club category of TopConsumerReviews.com at https://www.topconsumerreviews.com/best-olive-oil-clubs/.
About Fresh Pressed Olive Oil Club
Fresh Pressed Olive Oil is the creation of "Olive Oil Sommelier" and expert T.J. Robinson, award-winning chef and food journalist. Every year, he and his team travel the world, seeking out only the best-tasting oils and acquiring them for club members during the olive harvest and shipping them by jet to ensure maximum freshness. Every olive oil shipped to club members is fresher, better-tasting and healthier than anything found on store shelves, leading to an 87% renewal rate quarter after quarter.
About TopConsumerReviews.com
TopConsumerReviews.com, LLC is a leading provider of reviews and rankings for thousands of consumer products and services. From Olive Oil Clubs to Coffee Clubs and Flower Delivery Services, TopConsumerReviews.com delivers in-depth product evaluations in order to make purchasing decisions easier.