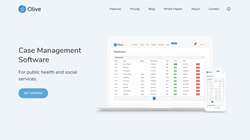 "Olive is truly liberating to staff that spend too much time writing handwritten notes in the home and then traveling back to the office to document."
THOUSAND OAKS, Calif. (PRWEB) April 22, 2020
Olive App, LLC today announced the launch of Olive, a cloud-based case management system designed for public health and social services. Whether they work as independent contractors or are part of a large public health or social services agency, with Olive, case managers can develop electronic care plans, monitor clients, and complete all case documentation without resorting to paper notes or returning to the office to file documents. This lets case managers provide a higher level of service, while enabling them to care for more clients in the field.
The Olive care plan app makes it easy for case managers to:

Identify client needs based upon specific assessment criteria that's customizable per organizations needs (public health, social work, vocation services and more)
Evaluate outcomes and service effectiveness while maintaining compliance with intelligent reporting
Complete audit compliance with input validation, duplicate data entry prevention, audit logs, access control and more
Audit compliance will significantly decrease chargebacks from state agencies resulting in more funds available to increase staff or other beneficial programs
Worry-free billing because Olive ensures 100% compliance
Access full-featured Tuberculosis monitoring and tracking built in
Set client appointments, events, and reminders with friendly reminders
Track follow-up visits and receive alerts via email and website notifications
Track work times and verify case manager workloads
Utilize modern software architecture designed for speed, scalability and longevity running on Microsoft Azure
Secure API for consumption by all modern EHRs and services
"Olive is truly liberating to staff that spend too much time writing handwritten notes in the home and then traveling back to the office to document," said Sandra Copley, former Maternal Child and Adolescent Health director and Field Nursing manager for Santa Barbara County. "This technology is reflective of what we do in public health, enabling public health professionals to be more available and present for their patients as well as including the necessary components for reimbursement and for documenting vital data and outcome measures."
"Having worked in public health administration for over 25 years, I know that what nurses and social workers want to do more than anything is take care of their clients," said Nancy Leidelmeijer, creator and co-founder of Olive. "Our goal with Olive has always been to make the documentation part of their jobs easy and seamless, so the one-on-one time spent with clients is maximized."
"Having built several case management systems over the years has taught me a lot about what users want and need," added Todd Mueller, head of engineering and co-founder of Olive. "Case managers first and foremost need a simple, easy-to-use system that helps them be more efficient. While management needs the reassurance of a system that is compliant to prevent state chargebacks that result in lost funds for the agency. Finally, the internal IT team needs reassurance the system is secure, reliable and can perform under load. With Olive, we have addressed all three of these concerns and continue to improve the system daily based on user feedback and technology advancements.".
About Olive App, LLC
Olive App, LLC is the developer of Olive, a cloud-based case management software that lets case managers spend less time on paperwork and more time with their clients. Olive lets case managers provide a higher quality of service to their clients while enabling them to care for more clients while in the field. To learn more and schedule a complimentary demo of Olive, visit oliveapp.co.