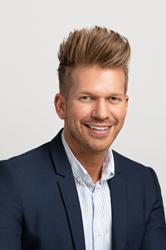 "I'm excited to join the Amare team," Dibblee said. "As the category-leader in mental wellness, we are perfectly positioned for massive growth. I look forward to accelerated success for our Wellness Partners at Amare!"
IRVINE, Calif. (PRWEB) May 26, 2021
Oliver Dibblee has joined Amare Global in the newly created role of Associate Vice President of Sales. Dibblee brings over 12 years of sales experience. His new role at Amare will include field development, training, and coaching.
"We are happy to welcome Oliver Dibblee to our Amare team," said Amare Founder & CEO Hiep Tran. "He brings a strategic and enthusiastic approach to empowering the success of our Independent Wellness Partners. We are confident that Oliver's approach to data-driven sales growth will add to our momentum."
In his prior roles, Dibblee created and instituted new training programs for the field. His data-driven coaching approach has generated year over year growth for large teams of independent distributors.
"I'm excited to join the Amare team," Dibblee said. "As the category-leader in mental wellness, we are perfectly positioned for massive growth. I look forward to accelerated success for our Wellness Partners at Amare!"