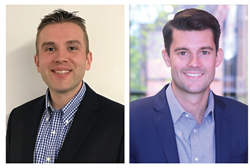 PROVIDENCE, R.I. (PRWEB) January 31, 2023
Gilbane Building Company is pleased to announce that Oliver Majewski and Calvin Matthes have transitioned to business development roles in the Rhode Island market. In these roles, both will drive strategic growth in the region's commercial, higher education, K-12 education, healthcare, and life sciences markets.
"We are thrilled to have both Oliver and Calvin in business development roles. Our continued growth in Rhode Island has supported tremendous career opportunities for our team members, and their solid operational foundations and strong industry networks will ensure success as they embark on this new chapter," said Steve Duvel, senior vice president and division leader for Gilbane New England.
Joining Gilbane in May of 2022, Oliver assumed roles in both business development and project management. Before joining the Gilbane team, Oliver most recently worked at H.V. Collins Company, a Providence, RI-based general contractor. He has extensive and diverse experience in the construction industry, including roles as an owner's representative and development manager – both here in Rhode Island and in the Greater New York City area. He has worked in many different market sectors and hopes to complement that knowledge base with Gilbane's broad depth of reach. Within his new role, he hopes to connect and contribute further to the Rhode Island community.
Since joining Gilbane in 2013 as a project engineer, Calvin has worked on numerous projects throughout Rhode Island, serving notable clients such as Bank of America, Brown University, and General Dynamics Electric Boat. In addition, Calvin's time with the company allowed him to gain a broad range of experience through his travels, including working for Gilbane's Southern Florida business unit building luxury condominiums. Calvin is driven by his passion for his home state of Rhode Island and his desire to make a positive impact on its communities.
Oliver is a graduate of the New York College of Environmental Science and Forestry, where he earned a Bachelor of Science in Construction Management with a minor in Sustainable Construction and Renewable Materials, LEED emphasis.
Calvin holds a Bachelor of Science in Architecture with a minor in Construction Management from Roger Williams University.
About Gilbane Building Company
Gilbane Building Company provides a full slate of construction and facilities-related services – from pre-construction planning and integrated consulting capabilities to comprehensive construction management, close-out, and facility management services – for clients across various markets. A family business founded in 1870, Gilbane has active participation from the 4th, 5th, and 6th generations of the Gilbane family.