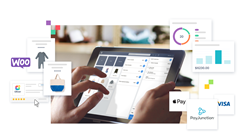 "Users of WooCommerce with a physical location can now speed up processing and streamline operations through one unified cloud-based interface."
SANTA BARBARA, Calif. and ST. JOHN'S, Newfoundland (PRWEB) April 01, 2021
Oliver POS (CPTS), a provider of integrated retail point-of-sale software, and PayJunction, a leading developer of payment processing technology, announced the availability of integrated payment processing for businesses that run on the WooCommerce platform. PayJunction is offering qualified clients of Oliver POS a free ZeroTouch Terminal to simplify payment processes and improve the customer experience.
"We are excited to team with Oliver POS to improve the payment experience for their retail clients and the customers they serve," said Randy Modos, president, PayJunction. "Users of WooCommerce with a physical location can now speed up processing and streamline operations through one unified cloud-based interface."
"PayJunction offers a great solution that not only helps us accelerate our growth, but helps our merchants and their customers, as well," says Mathias Nielsen, Founder and CEO of Oliver POS. "Right now, safe and efficient checkouts for in-store businesses are essential, and we're looking forward to providing our merchants with this option."
The integration allows payments to be initiated through the Oliver POS register, and for all transaction information to seamlessly flow into customer records and reports. This eliminates double-entry keying errors, reduces paper-based systems, and speeds end-of-day close, allowing clerks and associates more time to devote to essential areas of their business.
In-person payments are processed using PayJunction's cloud-connected ZeroTouch Terminal. The ZeroTouch Terminal is designed to promote healthy payments by eliminating unnecessary touchpoints between customers and employees. It is a customer-facing device, so cards remain in the hands of consumers, protecting against the spread of germs. Contactless cards and digital wallets allow customers to quickly and securely pay without touching the terminal.
The integration of Oliver POS and PayJunction streamlines payments and provides businesses with a consolidated view of activity across acceptance channels:

For in-store payments, the amount due is automatically sent from Oliver POS and displayed on the terminal's large screen. Customers pay via a simple swipe, insert, or tap of their contactless card, phone or wearable.
Online payments are supported through the WooCommerce platform via a shopping cart or a hosted payment page and processed by PayJunction
Transactions are paired with customer records, and digital receipts are securely stored in the cloud, eliminating the time and hassles associated with paper storage and retrieval.
Both in-store and online payments are managed through the Oliver POS Hub, allowing staff to access reports or quickly locate sales and email receipts to clients in just a few clicks. Hub's insightful reporting tools allow shop owners to dig deep into transactions made across all shopping channels.
About Oliver POS
Designed to unite ecommerce with in-store retail, Oliver POS is a powerful point of sale solution that simplifies omnichannel retail while providing the necessary tools to efficiently run a successful shop. With advanced customization, shop management, in-depth analytics, and a line of powerful hardware, Oliver POS aims to be the all-in-one operation system for your retail store.
Born from one shop owner's struggle to connect his e-commerce to in-store sales, Oliver POS was founded in 2019 in St. John's, Newfoundland. Since its inception, it has steadily flourished into a Gerry Pond Sales Award winner, with a dedicated and expansive team in Newfoundland, India, and Denmark. Oliver POS now powers shops in over 80 countries worldwide, and hopes to expand its international reach. To learn more about Oliver POS, visit us at https://oliverpos.com/.
About PayJunction
PayJunction, founded in 2000, has continually disrupted the payment processing industry with an approach that combines customer advocacy, transparent and ethical pricing, and environmental consciousness. PayJunction's cloud-based gateway and processing platform consolidates credit, debit and check transactions made in person, online, over the phone and on the go. Its technology helps businesses increase productivity, reduce costs and elevate the customer payment experience. PayJunction processes over $5 billion annually for US-based businesses. PayJunction's dedication to valuing long-term relationships over short-term profit has earned the company widespread recognition and awards from Stevie®, Glassdoor® and others.