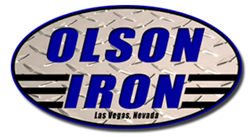 Olson Iron also offers the perfect solution for Iron Stairs & Spirals in Las Vegas. One can opt for these railings on stairs and spirals for a newly constructed house, or replace their old railing with the new one
Las Vegas (PRWEB) May 09, 2014
Olson Iron now offers customize wrought Iron Stair Rails Las Vegas. They are a Las Vegas-based company which deals exclusively with wrought iron manufacturing and patio installation. They offer customized designs for interior railings. They provide customized wrought iron railings for houses, offices and other purposes. Their wrought iron railing is highly praised for its mesmerizing design and glossy finish. Olson Iron railing holds the power to transform an ordinary house railing into a fine work of art. They have expertise in providing traditional wrought iron railings to modern customized design railings. No matter what the type and design of the railing is, one can completely rely on them for their wrought iron railing needs.
One of the spokespersons from the company stated, "Olson Iron Stair Railings can
customize a wrought iron interior railing that will transform your old stairs into a fine work of art. From timeless traditional wrought iron, to modern stainless steel stair railings, Olson Iron Stair Railing is confident they can help. Thinking of replacing your old existing wood railings with the stunning appeal of wrought iron stair railings? Let Olson Iron Stair Railings redefine the presentation of your stairs."
Olson Iron also offers the perfect solution for Iron Stairs & Spirals in Las Vegas. One can opt for these railings on stairs and spirals for a newly constructed house or replace their old railing with the new one.
About Olson Iron
Olson Iron "Custom Wrought Iron Showroom" is a custom wrought iron manufacturer for both residential and commercial projects. They are an established, competitive company in Las Vegas and they are proud to offer the highest quality and aesthetically pleasing products to their customers. Their unparalleled craftsmanship is evidence that they are head and shoulders above their competitors. It is their goal to provide professional, efficient service and superior quality workmanship to each customer. Their fabricators are proficient with all types of metal, including stainless steel, aluminium, and brass and copper; therefore, they are able to provide a service and a product one can't find anywhere else.
For more information, please visit- http://www.olsoniron.com.