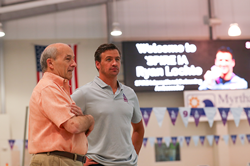 ...SPIRE is special in so many ways. From an athlete development and training perspective, we have the potential to build something here that is totally unique.
GENEVA, Ohio (PRWEB) June 09, 2020
Twelve-time Olympic medalist and world-record holder Ryan Lochte has two passions: training for the Tokyo Summer Olympic Games in July 2021 and turning SPIRE Academy Swimming into the top athletic training hub (and tournament venue) for the world's best swimmers.
Lochte joined the SPIRE Institute and Academy team in February to serve as an International Ambassador for its boarding school, camp/club training programs, major events and recreational aquatics program. A one-of-a-kind campus that features 750,000 square feet of indoor training and competition facilities, SPIRE is the largest indoor sports complex in North America. It is also highly regarded as a host of swimming events including USA Swimming, NCAA, Big East, Atlantic 10 Championships, and local, regional and sectional meets.
Just how sold the 35-year-old Olympian is on the SPIRE Academy's Swimming program is evident in his most recent video, in which he is seen touring the Academy's swim complex. SPIRE Academy features a 10-lane, 50-meter Olympic size pool with 2 movable bulkheads, a 25-yard recreation pool, 4 therapeutic pools to support training and rehab activities, full locker room facilities and a world-class SPIRE Performance Training Center.
"I've been swimming since I was 5 years old, so I've seen just about everything in terms of training programs and facilities," said Lochte. "But SPIRE is special in so many ways. From an athlete development and training perspective, we have the potential to build something here that is totally unique. I'm excited to be a part of that process, and I look forward to helping SPIRE make a major impact on the sport of swimming — both in and out of the pool."
SPIRE is owned by AXXELLA, LLC, a subsidiary of Baltimore, Maryland-based Blue Ocean. According to Blue Ocean President & CEO Jonathan Ehrenfeld, the firm's intent is to take SPIRE to a higher level across all its Academies athletic training/academic education, tournament and special event programming.
"In order to accomplish this objective, we are engaging with industry leaders and influencers in many different niches," said Ehrenfeld. "Ryan Lochte is a champion at the highest level of his sport. His swimming prowess, his competitive fire and his sport-specific knowledge are all incredible. He's demonstrated that he's dedicated to helping us build the entire SPIRE Swim program into a one-of-a-kind experience…and we are proud and excited to have him on board."
About Blue Ocean
Founded in 2004, Blue Ocean is a real estate investment and management company headquartered in Baltimore, MD. Blue Ocean is active in a variety of sectors within the real estate industry including multi-family, office, retail, industrial, sports, hospitality and self-storage sectors. Today, the Blue Ocean portfolio consists of 23 properties valued at approximately $450,000,000. This portfolio consists of 3,000 apartment homes and almost 3,500,000 square feet of commercial space.
About Axxella
Founded in 2018, Axxella was born with the purpose to expand upon the already established group of service businesses Blue Ocean had assembled since its inception in 2004. These businesses have expanded from nurturing the specific needs of Blue Ocean to providing goods and services to many third-party partners. In addition, Axxella has partnered and/or acquired businesses that have complimented the strengths of the legacy companies.
About SPIRE
Constructed on 177 acres of expansive land, at 750,000 square feet, SPIRE Institute is among the largest and best-equipped indoor sports facilities in North America. SPIRE Academy serves as an international academy for high school and post graduate athletes. SPIRE Academy offers boarding school and camp programs in swimming, track and field, basketball, esports and mechatronic engineering. Spire has hosted countless sport competitions including those organized by the NCAA and the Big East, Big Ten and Atlantic 10 conferences. Spire also hosts various Olympic trials and world championship qualifiers.