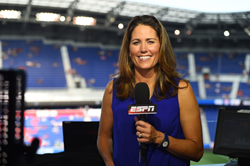 LOS ANGELES (PRWEB) May 27, 2020
Julie Foudy, former captain of the U.S. Women's Soccer Team, two-time Olympic Gold Medalist, and two-time World Cup Champion, will deliver The Archer School for Girls' commencement address on May 29, 2020.
One of the most accomplished female soccer players in the world, Foudy currently serves as an analyst and reporter at ESPN where she provides commentary and features for espnW. Before her work at ESPN, Foudy led a successful career on the USA National Team for 17 years where she participated in four Women's World Cups and three Olympics for the USA Team. Foudy was inducted into the US National Soccer Hall of Fame in 2007, alongside longtime teammate and friend, Mia Hamm. Julie and Mia were only the 6th and 7th women ever to be inducted into the Hall of Fame and the first and only ALL FEMALE induction class.
Most important to Foudy, she has made a difference off the field as well. Julie was the President of the Women's Sports Foundation from 2000-2002. She served on the Women's Sports Foundation Board of Directors for 7 years and was a WSF advocacy consultant for two years, with a focus on Title IX, childhood obesity, and athletes' rights issues. Julie also served on the Board of Directors for the WUSA as the Player Representative. Julie currently sits on the board of Athletes for Hope (AFH), a 501(c)(3) charitable organization created by successful athletes who have a deep commitment to charitable and community causes. Julie is an espnW advisory Board Member, a Positive Coaching Alliance advisory Board Member, a Steel Sports Inc advisory Board Member, and served as a global spokeswoman for Global Girl Media, a non-profit helping young women around the world find their voice through journalism. Julie also has been instrumental in a number of women's rights and child labor issues around the world. The world governing body of soccer, FIFA, awarded her the FIFA Fair Play Award, the first woman and American to receive the award, for her work against child labor in the stitching of soccer balls.
Foudy went on to found the Julie Foudy Sports Leadership Academy, which focuses on developing leadership skills in student athletes, and the Julie Foudy Leadership Foundation, which empowers young women from all socioeconomic backgrounds to lead within their communities.
"We are thrilled to have Julie Foudy deliver the commencement address to the Class of 2020," Head of School Elizabeth English said. "Ms. Foudy has been an incredible trailblazer and leader on and off the field. Our girls are excited and grateful to have such an intrepid commencement speaker in such a challenging year."
****
About The Archer School for Girls
Founded in 1995, The Archer School for Girls is a contemporary girls' school, grades 6 through 12, devoted to educating and empowering girls for leadership in the 21st century. We take a research-based approach to teaching and learning in an environment that explores and refines the ways girls learn best. Archer has always been committed to reflecting the face of Greater Los Angeles. Forty-two percent of the student body are students of color and come from 73 different zip codes and 141 different feeder schools. We award nearly $4 million in financial aid annually. Above all, Archer is known for its highly innovative programs and joyful culture. For more information, follow us on Facebook and Twitter @ArcherSchool, Instagram @ArcherSchoolforGirls, or visit our website http://www.archer.org.