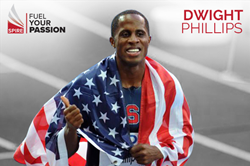 Having the opportunity to mentor student athletes at a top-notch facility like SPIRE alongside a team of such outstanding coaches, trainers, and support staff, is a once-in-a-lifetime opportunity for me.
GENEVA, Ohio (PRWEB) September 21, 2020
SPIRE Academy's integrated team works to develop the entire student athlete, placing equal focus and extra emphasis on the development of strong minds, strong bodies and strong character. To prepare its student athletes to achieve peak performance in school, at work and in life, SPIRE has assembled a support network that now includes high-performing professional athletes that serve as "Ambassadors".
SPIRE Ambassadors play a key role in the development of its student athletes, occasionally working with them one-on-one to help them enhance their personal performance, improve athletic ability and gain a competitive advantage. In addition to this mentoring, SPIRE Ambassadors work with the Academy's integrated team to help develop innovative, cutting-edge programming. They also provide insights to SPIRE's coaches and performance training staff to perfect a program of exceptional coaching, reporting, testing and assessment for every Academy athlete to ensure they are ready to perform at the next level.
The most recent addition to SPIRE's corps of Ambassadors is long jumper Dwight Phillips, an Olympic gold medalist and four-time world champion. A multi-event track and field athlete before deciding to focus on the long jump, Phillips was the best American performer in that event in the 2000 Sydney Olympics. After winning both the IAAF indoor and outdoor World Championships in 2003, he entered the 2004 Olympics in Athens ranked number one in the world. The jump that won him a gold medal was the fourth biggest in Olympic history, after Bob Beamon (1968) and Carl Lewis (1988, 1992). In 2018, Phillips was inducted into the National Track and Field Hall of Fame.
"Having the opportunity to mentor student athletes at a top-notch facility like SPIRE alongside a team of such outstanding coaches, trainers, and support staff, is a once-in-a-lifetime opportunity for me," said Phillips. "I respect SPIRE's emphasis on helping athletes become physically stronger, faster, and more agile while also helping them become confident, self-disciplined human beings who thrive under pressure and are ready to tackle the world. I'm really looking forward to being a part of this."
Phillips' life experiences, not only as a superior track and field athlete but as someone who has battled back from adversity, make him uniquely qualified to mentor young people. In his book The Will to Win, Phillips tells the story of a catastrophe that nearly derailed his Olympic dreams. At the age of 8, he was involved in a serious motorcycle accident that left him with a broken leg. The diagnosis was so severe, in fact, that he was told he would never be able to participate in sports again. Rather than discourage him, however, the setbacks Phillips encountered only served to motivate him further toward his goals. As a SPIRE Ambassador, Phillips frequently draws on stories like these to teach athletes about the value of channeling negative emotions and reframing difficult experiences to propel them forward.
Phillips joins 12-time Olympic medalist and swimming world record holder Ryan Lochte, track and field Olympian and three-time gold medalist Tianna Bartoletta, swimmer, three-time Olympian, and Olympic team captain Elizabeth Beisel, and American freestyle and butterfly sprint swimmer Caeleb Dressel in SPIRE's corps of Ambassadors.
ABOUT SPIRE
SPIRE Institute & Academy (IA) (http://www.spireinstitute.org) is one of the largest indoor, professional training and competition complexes in the world. With more than 750,000 sq. ft. under roof and a campus of 300 acres, SPIRE has the unique capacity to simultaneously host a world-renowned sports academy, clubs, leagues, tournaments and championship events, no matter the weather or the season. SPIRE Academy and its expert coaches, teachers and performance trainers offer residential camp and academy training programs in basketball, track and field, swimming and now in esports and drone/robotic/AI/emerging tech as well. The comprehensive mix of professional level training integrates athletics and academics, skills training and performance training and personal and career development in ways that have never been done before. High school and post grad athletes on one campus, pursuing specialty passions ranging from basketball to e-gaming, swimming to drone racing, pole vaulting or sprinting to future opportunities like culinary or cultural arts… is a career development experience that you just won't find anywhere else in the world today.
SPIRE Institute is the epitome of a 'real world lab' for professional, technical and health and wellness research. Like never before, student trainees and elite athletes will have the chance to train, study and be studied side-by-side with weekend warriors, wounded Veterans, Paralympians, Olympians and Special Olympians, as well as juniors, collegians and adults of all ages and ability levels. SPIRE is truly a melting pot of all things relative to long-term training and education development, and all of this delivered within a fun, healthy and inspiring environment. The "SPIRE Way'' focuses on the development of the whole self—building strong minds, strong bodies and strong character.
ABOUT BLUE OCEAN
Blue Ocean is a property management company in Baltimore, MD that is active in syndicating, purchasing and managing investment grade real estate assets in the multifamily, office, retail and industrial sectors. The Company was founded in 2004. Since that time Blue Ocean has grown its portfolio to 35 properties valued at over $400,000,000. The Blue Ocean portfolio consists of approximately 3,700 apartment homes and 2,000,000 square feet of commercial space. For more information, call: (410) 358-2232 or visit: http://www.blueocean.com.