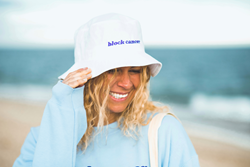 I know that my dad's battle along with the money raised by Block Cancer will save someone's life one day.
BLOCK ISLAND, R.I. (PRWEB) September 20, 2021
Three-time Olympian, silver medalist and 2016 Team USA Captain, Elizabeth Beisel is poised to make history on Wednesday, September 22, 2021, when she swims from mainland Rhode Island to Block Island in her BLOCK CANCER SWIM. If completed, she will be the first woman to swim the16.7km (10.4 mile) route. Elizabeth will adhere to Marathon Swimmers Federation's Rules of Marathon Swimming throughout the entirety of her swim. The swim will be nonstop and unassisted.
Elizabeth announced in January of 2021 the Block Cancer charity swim to encourage her father Ted Beisel, who was battling stage 4 pancreatic cancer. Sadly, Ted passed away on July 1, 2021. One of Ted's last wishes was that Elizabeth complete the Block Cancer charity swim. All proceeds are benefitting the nonprofit Swim Across America whose mission is to fund cancer research. Elizabeth has been volunteering with Swim Across America for more than ten years. Block Cancer met its initial goal of $100,000 and continues to accept donations that will fund cancer research.
The support crew for Elizabeth will include two support boats, EMTs, shark experts, a navigator, Elizabeth's coach, her family, and Elaine Howley of the Marathon Swimmers Federation. Two kayakers will flank Elizabeth during the swim and assist with feeding during the roughly 5 hour journey. Elizabeth chose this swim to Block Island because while growing up in Rhode Island, swimming to Block Island was always something she dreamed of doing. To follow Elizabeth's progress, learn more, support, donate and/or shop custom Block Cancer gear, visit blockcancer.org.
WHEN: Wednesday, September 22, 2021
WHERE: 6:15 a.m. - Elizabeth leaves Matunuck Beach at the beach of Ocean Mist Restaurant
895 Matunuck Beach Road, Wakefield, RI 02879
Sometime before noon - Elizabeth arrives at Block Island
Celebration after her swim at Ballard's Beach Resort
42 Water Street, Block Island, RI 02807
According to the National Cancer Institute (NCI), an estimated 1.8M new cases of cancer are diagnosed each year. Elizabeth said her dad's diagnosis personalized a mission for her. Swimming to raise awareness and help fund new and better treatments is what she can do to make a difference. Swim Across America, Inc. (SAA) is dedicated to raising money and awareness for cancer research, prevention and treatment through swimming-related events. Founded in 1987, Swim Across America has raised more than $100 million to support cancer research and clinical trials. With the help of hundreds of volunteers and Olympians, Swim Across America is helping find a cure for cancer. To learn more visit swimacrossamerica.org or follow on Facebook, Instagram and Twitter @SAASwim.
NOTE TO MEDIA:
SWIM IS WEATHER-DEPENDENT. Media interested in witnessing Elizabeth's swim either at the launch point of the Ocean Mist Restaurant on Matunuck Beach or at her arrival at Block Island, please contact Jeni Howard at 203-273-4246 (mobile/text) to confirm everything is a "GO" for September 22 and to determine best vantage points.
Elizabeth is happy to do interviews in the days leading up to her swim or after her swim is completed.
The course is a 10.4-mile straight line between the beach at the Ocean Mist Restaurant, 895 Matunuck Beach Road in Wakefield, RI 02879 (41.373340518811084, - 71.54499380848279) and the intended finish location just west of Grove Point on Block Island (41.2246964845575, -71.56826186268364). The intended landing spot is near the terminus of Corn Neck Road just beyond Sachem Pond. The swimmer may land anywhere between the base of the North Lighthouse and Grove Point. No outside boats except Elizabeth's support team are allowed near her during the swim or at her landing.
We will have GoPro cameras and an on-the-water photographer capturing Elizabeth's start and finish of the swim.
Olympians joining Elizabeth's victory celebration on Block Island include: Craig Beardsley (1980) and Katie Hoff (2004, 2008)
To view the full news release and quotes from Elizabeth click HERE
To download b-roll of Elizabeth swimming click HERE
To view/download photos of Elizabeth click HERE
Block Island Ferry Schedule available HERE