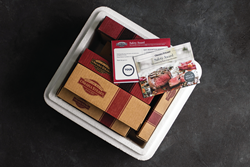 "We have solutions for a variety of occasions or can work with you to curate your own selection of gourmet items for larger orders. Best of all each gift is customizable giving you the ability to add a personal touch."
OMAHA, Neb. (PRWEB) October 10, 2018
America's Original Butcher, Omaha Steaks®, a 101-year-old fifth-generation family-owned company and the nation's leading provider of exceptional steaks and premium gourmet foods, announced today the launch of a new custom certificate program perfect for corporate gifts for employees, customers, partners and associates. The new custom certificate program allows you to select and personalize custom gift options within your budget giving the recipient a selection of gourmet Omaha Steaks products to choose from including steaks, seafood, poultry, vegetarian and even dessert options.
"Custom certificates are the perfect solution for businesses large and small," said Matt Burdette, Sales and Marketing Manager. "This is a great solution for your corporate giving needs whether you need one certificate as a reward, or something for everyone in the company. We have solutions for a variety of occasions or can work with you to curate your own selection of gourmet items for larger orders. Best of all each gift is customizable giving you the ability to add a personal touch."
The certificates come with customizable areas to personalize your gift including:

Personal Gift Message- Imprint a gift message on any custom certificate to create a personal gift experience.
Recipient Name- Provide the names of your lucky recipients, and we'll make sure each gift is addressed accordingly.
Reason for Gifting- You can acknowledge safety awards, sales promotions, employee incentives, thank you gifts, etc. Title your gift to match the occasion.
"When one of the country's largest manufacturing companies wanted to recognize and reward employees for achieving 1,000,000 incident-free hours, they asked Omaha Steaks for help," Burdette added. "Our safety award, which is part of our custom certificate collection, was the perfect way for the manufacturer to express their gratitude. The certificates were shipped in bulk to their location and were distributed during a celebratory event."
Recipients can then redeem the custom certificates by phone, mail or online making it simple and easy to enjoy.
For more information about Omaha Steaks new customer certificates for corporate gifting, visit http://www.OmahaSteaks.com/business-gifts/Custom-Certificates or call 1-800-228-2480 to connect with a custom gifting expert.
About Omaha Steaks
America's Original Butcher, Omaha Steaks, founded in 1917, is an Omaha, Nebraska-based, fifth-generation, family-owned company that markets and distributes a wide variety of the finest quality USDA-approved, grain-fed beef and other gourmet foods including seafood, pork, poultry, side dishes, appetizers, complete meals and desserts. Today, Omaha Steaks is recognized as the nation's largest direct response marketer of premium beef and gourmet foods, available to customers by calling 1-800-228-9055, online at http://www.OmahaSteaks.com or at retail stores nationwide.